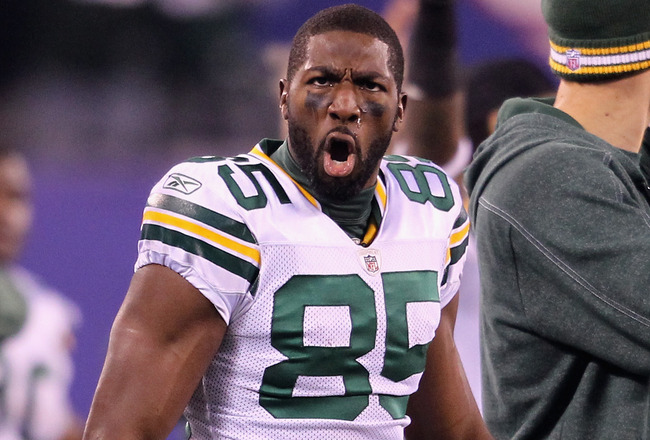 Jermichael Finley usually has the distinct honor of being the most vocal member of the Green Bay Packers whether it is in regular media interviews or his much scorned Twitter account.
As of late, however, someone is slowly sneaking up on Finley and trying to wrestle away his title.
That person, to the surprise of some, is none other than Pro Bowl WR Greg Jennings.   Jennings recently has made headlines for calling out a division rival as well as opening up about the Packers' loss in last year's playoffs to the eventual Super Bowl champion New York Giants.
In an interview with NFL Network, Jennings talked about perhaps the team that presents the biggest threat to the Packers' throne atop the NFC North—the Detroit Lions.  Here is what Jennings had to say about Detroit:
"They're a very talented team, but they have struggles on the field containing their composure, and definitely, the things we've heard of, them being in the media with off-the-field problems and off-the-field issues. Can they maintain their composure? Can they be a professional ball club for 16, 17, 18 solid weeks throughout the regular season?"
I'm not knocking Jennings for what he had to say here.  He's absolutely right. The Lions are a team that is one of the most talented in the league, but as the Packers saw last Thanksgiving as well as this offseason with a fair amount of players being arrested, the apparent lack of maturity could keep the team from making it to the next level and competing for a Lombardi Trophy.
The question is how smart is it to call out a divisional rival that has an offense that can keep pace with the Packers and a defense that has one of the best defenders in the NFL in Ndamukong Suh?  Jennings wasn't doing anything but stating the obvious and it's something even the Lions themselves have come to realize.
However, Jennings' comments did manage to draw the ire of one Lions player on Twitter.  Stephen Tulloch posted the following tweet in response to Jennings:
"Who is Greg Jennings to talk about the Lions? The guy should worry about his own team…."
Packers tight end Tom Crabtree had his teammate's back when he retorted:
"Who are you to talk about Greg talking about you? (sic)" followed by "Who am I?"
Looks like we're in for some fun during the two games the Packers and Lions meet.
Jennings also refused to blow off the Packers' loss to the Giants as a fluke like many fans have.  Members of the team this offseason have said that they didn't think Giants weren't the better team and that the Packers didn't play up to their standards and that's why the Packers' 2011 season came to a screeching halt.
Here's what Jennings had to say on the matter:
"It hurts. It was a disappointing end to the season, but obviously, we lost to a better team at that point. We didn't play up to our standard, but I can't knock what the Giants did. They came in our house, beat us on our turf, got it done."
In hindsight, it's hard to argue with Jennings on that one.  The Packers and by extension their fans were so enthralled at the team's magical season that they expected a cakewalk to another Super Bowl. As people like to say, that's why they play the games.
The sting from the loss is going to take some time to wear off.  Can the Packers shake it off and make another run for the Lombardi Trophy? Most folks seem to think so.
Jennings in particular is looking to have a big 2012 as he is entering a contract year.  It's hard to imagine a situation in which he leaves the Packers but with Jordy Nelson on the rise, Jennings is going to have all the motivation he needs to prove he is still the best receiver on a roster full of talented pass catchers.
Another question that needs to be asked is what to make of Jennings opening up like he recently has?  He's been nothing but pure class on and off the field but to some he has a somewhat big mouth.  He doesn't go off on profanity laced tirades nor does he ever ask for the damn ball, but there is something about Jennings personality that seems…well…Hollywood.
This is not to say he's a diva or is becoming a Terrell Owens or Chad OchoJohnson.  Far from it.  Jennings learned under the guidance of Donald Driver so there is very little reason to doubt Jennings is motivated by some kind of selfish goal.
Jennings seems mature enough to handle the responsibility that comes with superstardom in the NFL.  However, as we have seen time and time again, not everyone is what they seem.  Anyone can experience a shocking downfall in a very short period of time.
If he can avoid that, then Jennings very well may have a Hollywood ending to his career.
——————
Kris Burke is a sports writer covering the Green Bay Packers for AllGreenBayPackers.com and WTMJ in Milwaukee. He is a member of the Pro Football Writers of America (PFWA) and his work has been linked to by sites such as National Football Post and CBSSports.com. Follow @KrisLBurke
——————