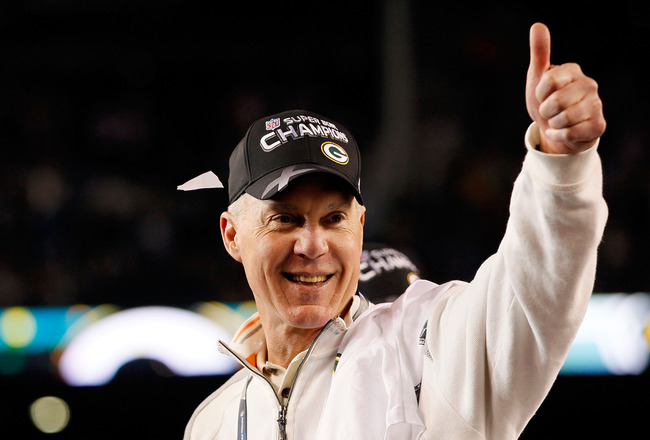 Welcome to NFL Draft Week.
It's the week many Green Bay Packers fans have been waiting for.  General Manager Ted Thompson will finally wake up from his offseason hibernation and will get to work setting the Packers up for another Super Bowl run in 2013.  As usual, he largely ignored free agency and will rely on the draft to restock Green Bay's shelves with fresh talent.
This offseason has been one of some discontent for some Packers fans.  Donald Driver retired, Charles Woodson was released and Greg Jennings signed with the Minnesota Vikings.  That's three veteran leaders that Green Bay won't have this year, not to mention three fan favorites as well. The Packers also hung onto Jermichael Finley, which drew considerable scorn from fans also.
Fear not, Packer faithful. It's not all bad.  Clay Matthews signed a five-year contract extensions and all signs point to Aaron Rodgers having his extension done before training camp.  As long as Matthews and Rodgers are in Green Bay, the Packers should remain in the upper echelon of teams in the NFC.
That said, Thompson realizes both those players need talent around them to get Green Bay from being one of the best teams to THE best team and he will do that through the NFL draft.   One could almost say, in recent years anyway, the draft has become Thompson's personal playground.
In fact, the NFL basically is a schoolyard.
While other general managers act like children and go out and get the hottest names with big contracts because their parents (owners) pamper them with money they cry for, Thompson sits idly in the corner almost by himself.  While everyone else is "oooh"-ing and "aaah"-ing over the other teams' newest toys/acquisitions, he sits by himself studying and working hard and trying to be the best he can be.
Does this make popular with everyone? No.  Fans get all antsy every season when Thompson flirts with a free agent that eventually signs with another team while the Packers focus on the draft.  It's not the most exciting method in the world, but fans need to realize what Thompson realizes:  an NFL franchise cannot be run like a fantasy football team. 
Super Bowl titles aren't won in March.  The team that signs the biggest free agent almost always never wins the Super Bowl.  Ask the Washington Redskins and Philadelphia Eagles how those big spending sprees worked out.   Redskins owner Dan Snyder is the biggest schoolyard bully of them all with how much money he has thrown at (and wasted on) big name players since he bought the team.
Let's look back at the NFL schoolyard. Years go by, and those kids grow and evolve.  Those that had those shiny new toys and had everything handed to them? Well, they're working but they are financially unstable and have been mainly underachieving. They have some good things, but had to settle for junk at times as well.
 As for Thompson? He's had a team in perennial Super Bowl contention and is financially stable.  He has one of the deepest rosters in the league and all the kids that previously ignored him are now in awe of what he has.  The one who went against the grain and did things his way, even though it wasn't always popular, ended up the most successful.
Let that be a lesson not just for building an NFL roster but for life as well: what is popular is not always right.
The bottom line is that Thompson's way has worked and is working.  For fans to feel entitled to a Super Bowl title every year and then get whipped into a rage when it doesn't happen shows just how spoiled some Packer fans have become.  Fans should expect great things from their team every year, that is their right, but to call for Thompson's head when the team won the division title despite major injuries is downright delusional.
A general manager builds a team for the regular season.  To build a roster on the assumption that the team has already clinched a playoff berth before Week 1 is a flawed mindset and it's one Thompson disagrees vehemently with.   His job is to build a roster to make the playoffs and be in position for a playoff run.  Once the playoffs start, it's a total crapshoot and it's on the head coach more than the general manager.
So relax, Packers fans. Your team is in good hands and don't fret that it's not making headlines in March or even April. Making headlines from September through February is much important and not to mention much more fun.
Keep calm and trust Ted.
——————
Kris Burke is a sports writer covering the Green Bay Packers for AllGreenBayPackers.com and WTMJ in Milwaukee. He is a member of the Pro Football Writers of America (PFWA) and his work has been linked to by sites such as National Football Post and CBSSports.com. Follow @KrisLBurke
——————