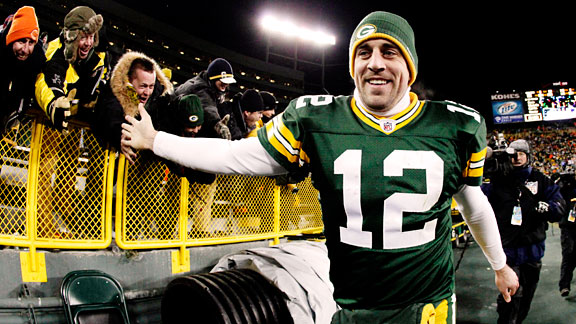 In case you are not aware, today December 12, 2012 (or 12-12-12) has been declared Aaron Rodgers Day by the State of Wisconsin.
It's a day to pay tribute to the starting quarterback of the Green Bay Packers and what he means to our great state (I am a lifelong Wisconsin resident, for the record).
I first heard of Rodgers towards the tail end of the 2004 season.  All I knew about him was that he played quarterback at Cal and was very possibly going to be the first pick of the 2005 NFL Draft.  I didn't pay much thought to him because he wasn't going to end up on the Packers and because Brett Favre was still the king of everything Packers, we didn't need to think about any other quarterback.
After the end of the 2004 season, Favre began to flirt with retirement but it was soon enough that he was going to be back in Green Bay for 2005.  No one really made a big deal out of it. As for the team, Mike Sherman had given way to Ted Thompson as general manager, but the Packers still finished 10-6 and won another NFC North division title. All seemed to be well in Packer Land.
Then came NFL Draft day, 2005. The 49ers were on the clock and selected Alex Smith, not Rodgers, with the first pick.  I remember sitting at the house I lived at on campus (I was in the middle of my junior year of college) and watching the draft with my roommates.  Once it got to around the 15th pick, I noticed Rodgers still had not been selected.
"Sucks to be him," was my only thought, as I anticipated who the Packers would select at 24th overall. Rodgers was not on my list of potential Packer selections that year.
Soon the Packers were on the clock and Rodgers STILL was available. We all know what happened next.  Rodgers was selected by the Packers and my immediate first thought was, "Oh s**t, Favre's retiring!"
That day finally came in March of 2008 when Favre announced his retirement. After the initial shock wore off, I became eager to see what Rodgers could do.
Then came the "Summer of Favre."
Favre decided as training camp began to make a comeback.  There is no need to recap the events of that time, but soon Favre was a New York Jet and the Packers were all in with Aaron Rodgers.  I felt uneasy about how the whole situation panned out, but Favre was not going to be in Green Bay forever anyways and I was intrigued by Rodgers' performance in relief of an injured Favre in a 2007 game against the Dallas Cowboys.
It was time to see what the new guy could do.
I can honestly say Rodgers' first start erased any and all doubts I had about him.  The Packers opened 2008 at home against the Minnesota Vikings and I remember it like it was yesterday: Rodgers dropped back to throw, rolled out to his right and heaved a deep ball into coverage that was caught by Greg Jennings.
Lambeau exploded in cheers but I couldn't hear it in my living room as I was yelling myself.
Rodgers finished the drive with an unconventional throw to Korey Hall and that sealed it for me.
Everything was going to be just fine.
Looking back at it now, things are better than "just fine." They're better than ever.
The way Rodgers conducted himself during the whole Favre debacle in 2008 gave everyone a glimpse of the quarterback and the man he would become over the next five seasons. While his predecessor was slamming the Packers any chance he could get, Rodgers took the high road and said all he was focused on was the team and continuing to improve.
He showed maturity well beyond his 24 years (at the time) and especially as a player who had yet to make his first NFL start.
Since that first season as starter, Rodgers' story has evolved into a legend.  The very same fans who booed him whenever he threw an incompletion or interception in 2008 now worship the very ground he walks on.  Such is the fickle nature of an NFL fan, let alone one as dedicated and as passionate as a Packer fan.
That tends to happen when you fly out of the gate like Rodgers has. With 2012 being only his fifth year as a starter, Rodgers already has earned plenty of accolades. He's a Super Bowl MVP, NFL MVP and holds a decent amount of Packers passing records already.
His athleticism combined with a wickedly accurate arm make him the ultimate quarterback.  He has the legs of Michael Vick with the arm of Favre plus the smarts of Peyton Manning and the poise of Tom Brady.  Rodgers is, more than any other quarterback in the league today, the complete package.  His game is nearly flawless.
Rodgers' play as a quarterback is perhaps only outdone by his performance off the field.  Not only is he an All-Pro quarterback, but he's also an All-Pro person.   His work with the MACC (Midwest Athletes against Childhood Cancer) Fund is fantastic and what's even more impressive is his insistence on keeping a lot of that stuff quiet and off camera.
The story goes Rodgers once paid for an area boy's entire birthday party at a bowling alley.  He didn't do it for glory or for attention, but rather he did it because it was the right thing to do.
If you haven't seen the video yet, please check out the "Aaron Meets Maggie" video on YouTube.  It's one of the most precious videos you will see and you will see Rodgers playing dress up with a little girl who has been battling cancer.  Yes, a reigning NFL MVP playing dress up.  While Tom Brady is on the cover of tabloids with his supermodel wife, Rodgers is on YouTube playing dress up with a cancer patient.
Super Bowl rings be damned. I want Rodgers as my quarterback.
Even more than his charity work, what I love the most about Rodgers is how much he keeps his life private.  In this age of social media and camera phones, privacy is a fleeting thing for any athlete let alone one as successful as Rodgers.  Yet even with recent rumors of a potential engagement, no one really knows for sure because he doesn't let people in.  Rodgers just wants to be left alone and be a regular guy.
When he talks to the media, he thinks about his answers. Rodgers does not blurt anything out that he has not thought about ahead of time. When members of the media sling mud his way, he doesn't get into a war of words.  Instead, Rodgers stores said mud in his incredibly large memory banks and unleashes the rage on his opponent the following week.
To quote the quarterback himself, "Shhhhhhhh………"
I was lucky enough to be in the same room with Rodgers as he made an appearance on Tom Crabtree's weekly "Clubhouse Live" at the Paper Valley Hotel in Appleton.  The thing that struck me the most from his appearance is how intelligent he is.  When asked about whether players truly play with fear, Rodgers' reply was incredible.  He said it depended on the context of fear and he gave two answers based on how fear is interpreted by him.
If you ever get a chance to meet him, do it.  There is absolutely no bravado to the man.  He's really a normal guy and you can tell the spotlight hasn't changed his beliefs.  In fact, the extra attention seems to have reinforced his beliefs.
Packer fans are lucky to have him not only under center but as the face of the franchise.  Rodgers faced incredible pressure following Favre regardless of how he retired, but the drama of the 2008 made that task even more difficult.  Rodgers handled it like it wasn't even a small nuisance.
When Favre arrived in Green Bay, the team hadn't been competitive in decades and needed someone to help revitalize the franchise. Favre was that man.
When Favre passed the torch to Rodgers (with the torch miraculously not intercepted!), the Packers had only had one losing season since 1992.  The franchise was on solid ground and the Packers were (and still are) one of the NFL's model franchises.  The fans, however, had just been betrayed by their former hero. Favre's trade to the Jets and subsequent signing with the Vikings violated every belief fans held about him.
The Packers and their fans needed a hero again, and they got one.
To borrow a quote from a film, Brett Favre was the hero Green Bay needed.
Aaron Rodgers is the hero Green Bay deserves.
——————
Kris Burke is a sports writer covering the Green Bay Packers for AllGreenBayPackers.com and WTMJ in Milwaukee. He is a member of the Pro Football Writers of America (PFWA) and his work has been linked to by sites such as National Football Post and CBSSports.com. Follow @KrisLBurke
——————