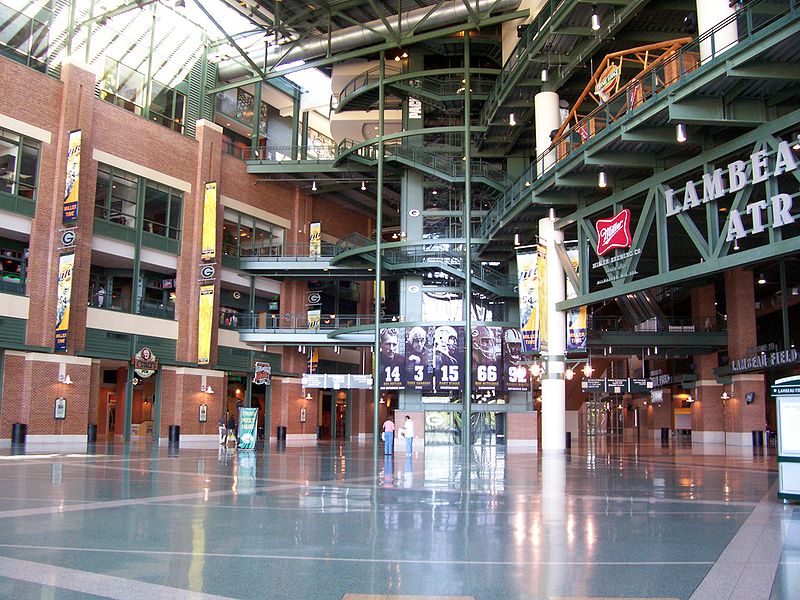 For those fans coming to Green Bay for one or several Packer games this season, you will notice immediately the changes in the south end zone with  ongoing construction that is adding of 6,600 seats as well as two new high definition video boards that are in place for the start of the 2012 season.
Those are changes to the stadium bowl.  Now the Packers are apparently eyeing up some changes to the Lambeau Field Atrium.
According to the Green Bay Press Gazette, Packers President and CEO Mark Murphy said the team has some ambitious plans for the first major renovation since the atrium was completed in 2003.
Some proposed plans include moving the Green Bay Packers Hall of Fame from the basement of the atrium up to the second floor which is currently home to Curly's Pub.  This would mean increased visibility for the Hall of Fame, according the team.
The restaurant in turn would move to the first floor of the atrium near the Packers Pro Shop.  The Packers said this would also increase visibility for Curly's Pub.  Changes in the pro shop also might be coming, Murphy said.
With the Packers recently disclosing a record profit of $42.7 million in 2011, the team is obviously not resting on its laurels and continues to make sure the franchise is financially stable long term.  Keeping the Lambeau Field Atrium up to par with the rest of the NFL is crucial to that goal and its obvious Murphy recognizes that.
The team also should be able to re-sign existing sponsors as well as attract new ones.  As long as the product on the football field continues to be excellent, the Packers should have no trouble in continuing to put money in the till.
Improvements to the atrium and stadium proper are a big part of the development of the stadium district as well.  Cabela's announced earlier this year it was building a store in Green Bay not too far from Lambeau Field and it is expected other major businesses will follow suit and build near the stadium.
It's definitely a good time to be a Packer fan.
——————
Kris Burke is a sports writer covering the Green Bay Packers for AllGreenBayPackers.com and WTMJ in Milwaukee. He is a member of the Pro Football Writers of America (PFWA) and his work has been linked to by sites such as National Football Post and CBSSports.com. Follow @KrisLBurke
——————