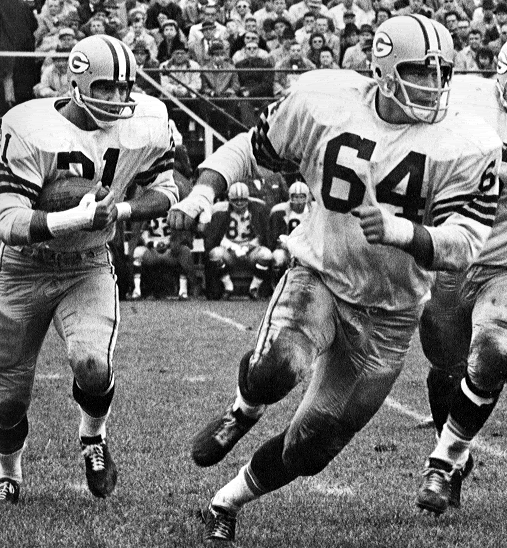 It's one of the biggest travesties ever committed against a member of the Green Bay Packers.
For a player who was a foundational part of the "Packers Sweep," a play that revolutionized the running game in the NFL, I can think of no greater offense given to him.  As a key player in the great Packers teams of the 1960s, not giving him his proper due is an insult to all those already in the Hall of Fame who have played against him.
I'm talking about the former Packer great and guard Jerry Kramer.  If you're reading this, chances are you are a Packers fan and by default are already knowledgeable in Packers history.  You know how much Kramer has meant and still means to this franchise, the greatest in all of professional sports.
The fact that he is not included in the Pro Football Hall of Fame in Canton, Ohio is utterly insane.  In fact, I'd even argue it stains the reputation of the Selection Committee itself.
It's clear where I (and countless other Packer fans) stand on the issue.  I'm not going to fire off a laundry list of reasons why Kramer should be in the hall of fame.  It's the same list we recite every year.  We are always countered with the argument that there are "too many" of Lombardi's players in already.  TOO MANY? There is no such thing as "too many" on teams as great as the 1960s Packers were.  I'd say the same for 1970s Steelers and 1980s 49ers too.
Instead, I think we need to explore the WHY of the whole argument.  Why isn't a player, whose hall of fame credentials are crystal clear, constantly left out year after year?
Well first off, it's of no fault of Kramer's.   Any Packer fan who has had the pleasure of meeting him (which I unfortunately NOT had the honor of doing yet) say he's first class to everyone.  Takes time to reminisce about the good ole days and share stories of what Lombardi really was like as a coach.  I look forward to hearing some of these stories someday soon.
Kramer's daughter Alicia has taken command of the effort to get fans involved in finally getting her father into Canton where he so rightfully belongs.  Making the senior committee aware of this injustice is crucial to getting it corrected.  Packer fans have joined Alicia hand in hand in the cause and for those of you on Twitter, I urge you to give her a follow @JerryKramer4HOF.
So what really is the cause of Jerry Kramer's delayed entry into the Pro Football Hall of Fame?  I'm not in the room when candidates' merits are debated but if I could wager a guess it would be something a bit surprising.
There is a generation gap.
Reporters who were at their prime in Kramer's heyday are now long since retired.  Some still have votes, but others have left the process altogether.  In their place is a younger group of not only writers but former players as well.  Some of these players played after Kramer retired so they don't remember seeing the great Packers teams play.
Hell, I wasn't even a thought in the late 1960s.  My parents were still 15 years away or so from even dating, much less having a child.
What we likely have here is a situation where a generation does fully appreciate the efforts of the group that came before.  I know my generation is guilty as charged.  We took over a good thing, said thanks and ran with it without fully thinking about what it took create what we now hold so dear.
Such is the way with NFL players.  So many today are caught up in the attention and the mega-contracts that they don't stop and think about the game they are playing.  They don't appreciate what Jerry Kramer and others did to pave the way for the game they play today.  Without them, there would be no NFL and they'd likely have had to rely on their brains and not their physical abilities to make themselves a living.
Same goes with a lot of sports writers today.  They don't think enough about what the pioneers of the game did.  They're only focused on being on the right side of a popularity contest instead of doing what is right and honoring the men who played in a different era.
So it is with Jerry Kramer and so it likely will be with some of our generation's greats when their time comes to be up for hall of fame consideration.
Enjoy the present and cherish the past.  If current members of the selection committee want to be remembered for doing what was right for the game and not what was just convenient or the "popular" thing to do, then they need to send a message and put Jerry Kramer in the Pro Football Hall of Fame.
Alicia Kramer and Packer Nation are watching.  If you're sick of hearing from us, then do the right thing.
Put #64 in Canton.
——————
Kris Burke is a sports writer covering the Green Bay Packers for AllGreenBayPackers.com and WTMJ in Milwaukee. He is a member of the Pro Football Writers of America (PFWA) and his work has been linked to by sites such as National Football Post and CBSSports.com. Follow @KrisLBurke
——————