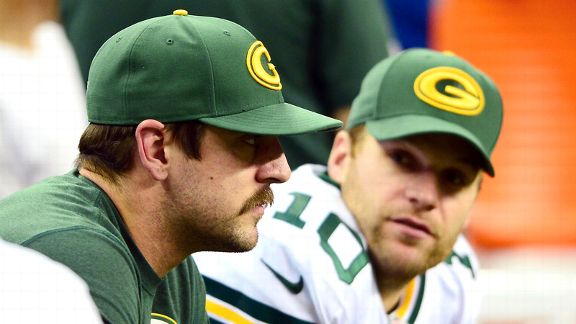 Would Aaron Rodgers even be able to save this Packers team?
The former MVP can cover up a lot of blemishes, but I don't think even he could patch up the festering wound that is 2013 Green Bay Packers.
The Packers can't tackle, cover the middle of the field, prevent big plays, get off the field on third down, contain the run, pass block, pass, or stop Jeremy Freaking Ross on special teams.
Yeah, I know. If Rodgers turns just one of the Lions turnovers into a touchdown and a two-score lead in the first half, the entire game changes.
But even if he did that, the Packers defense was so overmatched that I don't think it would have mattered.
I could go on and on wondering if having Rodgers would have mattered on Thanksgiving, but it's a pointless exercise. At this point, Packers fans are better off just preparing for the NFL draft in April.
On to the stock report:
Rising
Nobody.
Steady
Sam Shields
Shields had absolutely no chance stopping the slant to Calvin Johnson, but neither does anyone else when they're lined up one-on-one against one of the best receivers of all time. When Johnson and Matthew Stafford challenged Shields down the field, the free-agent-to-be stood strong and even out-battled Johnson for an interception in the end zone.
Clay Matthews
We haven't seen him dominate a game for four quarters since returning from a broken thumb, but he's making something happen every now and then.
Josh Sitton
Kudos to Sitton for calling the Lions a bunch of names before the game. Extra kudos to Sitton for standing behind what he said after the game. I never understand why we ask athletes questions, then get mad when they either a) give an honest answer like Sitton did or b) recite some mind-numbingly boring cliche. I'll take open and honest over boring and cliched any day.
Mason Crosby
No offense to Crosby, but I'm sick of seeing him in the rising or steady categories. When a kicker or punter ends up in one of these categories, it means there aren't many offensive or defensive players playing well.
Eddie Lacy
He didn't have any room against the Lions, but it sure was fun to watch him knock over Vikings defenders. Lacy has been the least of the Packers problems during this awful stretch.
Falling
The rest of the Packers roster, coaching staff and front office.
——————
Adam Czech is a a freelance sports reporter living in the Twin Cities and a proud supporter of American corn farmers. When not working, Adam is usually writing about, thinking about or worrying about the Packers. Follow Adam on Twitter. Twitter .

——————