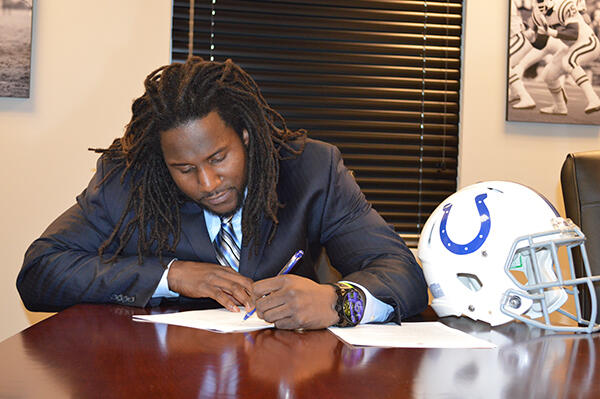 With the 2013 season now a quarter of the way over, I thought it would be a good idea to take a look at all the Packers who played for the 2012 team who are now playing somewhere else.  Have the Packers really missed them?  Have they made a contribution to their new teams?  (note: snaps are only counting offense and defense, not special teams)
Alex Green (New York Jets)
2012 season: 343 snaps, 135 attempts for 464 Yds, 3.4ypc, 0 TDs, 1 Fum
2013 season (projected): 40 snaps, 28 rushing attempts for 60 Yds, 2.1ypc, 0 TDs, 0 Fum
Alex Green never really was able to overcome the ACL injury he suffered as a rookie and became one of the few high draft picks to be quickly dumped by the Ted Thompson regime.  Green quickly found a new home with the New York Jets, one of the teams that curiously have been linked to the Packers (numerous trades of picks, Caleb Schlauderaff and of course Brett Favre).  As of yet, Green hasn't been able to make much of an impact even with an apparent opening at the running back position with the Jets; Chris Ivory has been hobbled with injuries, Mike Goodson just returned from suspension and KR/RB Joe McKnight was sent packing.  At the moment, Green is projected as the 3rd running back and is on pace for about 60 yards rushing with a 2.1 average.   For the Packers James Starks has played pretty well and Eddie Lacy and Johnathan Franklin have both showed promise.  the Packers are fine at running back without Green.
Greg Jennings (Minnesota Vikings)
2012 season: 416 snaps, 36 Rec for 366 Yds, 10.2 YPC, 4 TDs, 0 Fum
2013 season (projected): 664 snaps, 56 Rec, 1,008 Yds, 18.0 ypc, 8 TD, 0 Fum
Perhaps the biggest name to leave the Packers this year, Greg Jennings has caused much of a uproar with Packer nation after being very vocal about how much the "Packers Suck".  However the market was rather cold during free agency for Jennings and it took a last minute deal with the Vikings for Jennings to get a relative sizable deal.  At the moment, Jennings is projected as a starting wide receiver and is on pace for a 1,000 yard season with 9 touchdowns.  Interestingly, Jennings' YPC has increased drastically, perhaps because the Vikings are using him more on the outside and less in the slot.  While initially it might look like Jennings is having a bounce back season, keep in mind Jennings only played 8 games with the Packers last season so really Jennings is having a down year by his standards, mostly due to the lack of development of Christian Ponder and a continued focus on Adrian Peterson in the Vikings offense.   For the Packers, Randall Cobb, Jordy Nelson, James Jones and Jermichael Finley are all playing very well and much like last year, the loss of Jennings hasn't really affected the offense.  The Packers are fine at wide receiver without Jennings.
Tom Crabtree (Tampa Bay Buccaneers)
2012 season: 364 snaps, 8 Rec, 203 Yds, 25.4 ypc, 3 TD, 0 Fum
2013 season (projected): 0 snaps, 0 Yds, 0 ypc, 0TD, 0 Fum
A fan favorite, many fans were sad to see the Crabtree go, but most were not concerned this move would backfire on the Packers.  Crabtree is projected as the starting tight end with the Buccaneers, but hasn't been seen on the field as he continues to recover from a high ankle sprain.  Considering most of Crabtree's production last year occurred when defenses forgot to catch he could catch the ball and the instability of the Buccaneers' quarterback situation and overall loss of control by the coaching staff and Crabtree isn't likely even to match his modest production of last year.  For the Packers, while losing Crabtree hurts their ability to block inline, Andrew Quarless is back and adds a dimension to the passing game as well not to mention Jermichael Finley looks to be playing better than last year.  The Packers have been fine without Crabtree as their running efficiency has gone up.
DJ Williams (Jacksonville Jaguars)
2012 season: 240 snaps, 7 Rec for 57 Yds, 0 TDs
2013 season (projected): 96 snaps, 0 Rec for 0 Yds, 0 TDs
Ah DJ Williams, the Packers and fans had so much hope for the former Mackey Award winner when he was drafted and Williams has been given ample opportunity to become a part of the Packers offense after becoming the talk of the preseason during his rookie year.  However Williams has always had a problem catching the ball and with John Kuhn being a better blocker as well as safety valve in the backfield, Jermichael Finley being a legitimate receiving threat on the outside, and Ryan Taylor and Andrew Quarless being better inline blockers, Williams simply didn't have a forte for the Packers to call on.  Williams was also quickly picked up after the 53 man cut down but landed in perhaps a worst place than Tom Crabtree; the Jacksonville Jaguars are producing some college football like betting spreads and Williams is projected as the 4th TE behind the likes of Allen Reisner and Clay Harbor.  Again Williams' production will be hurt by the likes of Blaine Gabbert and Chad Henne, but if you only caught the ball 3% of the time you were on the field with Aaron Rodgers behind center, more likely the issue is more than whose throwing the ball.  More so with Williams than Crabtree, the Packers have not missed Williams in any capacity mostly because Williams did so little during his time with the Packers.
Erik Walden (Indianapolis Colts)
2012 season: 763 snaps, 27 Tkl, 19 Ast, 3 sacks, 2 INTs, 0 FF
2013 season (projected): 532 snaps, 16 Tkl, 16 Ast, 0 sacks, 0 INTs, 0 FF
·The surprise signing from the Packers roster during the offeason, Walden somehow miraculously parlayed a disastrous season capped off by a complete meltdown against the scrambling of Colin Kaepernick into a 4-year, $16 million contract with the Colts.  Keep in mind this was after the Packers lowballed Walden in 2012 with a 1-year veteran minimum contract.  Walden has rewarded the Colts with even less production than before as he's again one of the worst outside linebackers in the league and appears to be being phased out as the Colts push 1st round rookie Bjoern Werner into the starting position alongside Robert Mathis.  At the moment, Walden projects as the starting outside linebacker and is on pace for considerably less snaps as well as a drop in all statistical categories.  It's hard to figure how much of a loss Walden has been for the Packers; on one hand the combination of Mike Neal and Nick Perry has been lackluster at best, but I don't think Walden would be any better and more likely a lot worse.
Dezman Moses (Kansas City Chiefs)
2012 season: 437 snaps, 12 Tkl, 12 Ast, 4 sacks, 0 INTs, 0 FF
2013 season (projected): 24 snaps, 0 Tkl, 0 Ast, 0 sacks, 0 INTs, 0 FF
Another "all Oneida way" player who flashed in the preseason.  Walden actually played a fair amount of snaps with Clay Matthews missing 4 games last year due to a hamstring injury and preferred starter Nick Perry ending up on IR.  In all honesty, Moses actually played pretty well for a undrafted rookie, recording 4 sacks; however injuries plagued Moses during the preseason and with a spate of rookie outside linebackers coming in this offseason, Moses probably didn't show enough in his limited snaps in the preseason to justify keeping him.  At the moment, Moses projects as the backup outside linebacker and has mostly been relegated to special teams.  For the Packers, Moses is perhaps the biggest loss of the list simply because he has a lot of experience in the Packers defensive system and arguably had one off preseason with the alibi of injuries.  While he's probably a better option than Andy Mulumba or Nate Palmer, overall I'm guessing it's a wash as to who ultimately becomes the better player
Frank Zombo (Kansas City Chiefs)
2012 season: 115 snaps, 4 Tkl, 2 Ast, 0 sacks, 0 INTs, 0 FF
2013 season (projected): 36 snaps, 4 Tkl, 0 Ast, 0 sacks, 0 INTs, 0 FF
Another undrafted outside linebacker who played a significant role for the Packers ends up with the Kansas City Chiefs, which definitely has something to do with new GM John Dorsey.  After a spectacular showing in the 2010 season where he showed so much promise alongside Clay Matthews, Zombo has just been hit with injury after injury, most notably breaking his scapula during a preseason game in 2011 and being lost for the year.  The Packers obviously liked what Zombo brought but could justify keeping a walking injury list.  At the moment, Zombo projects as the other backup outside linebacker alongside Dezman Moses for the Chiefs and have also been relegated to special teams as well.  For the Packers, any healthy player is a better asset than a hurt Zombo, which is unfortunately the situation that Zombo often finds himself.  The Packers have plenty of young outside linebackers that could conceivably be better than Zombo and don't have the injury history.
Terrell Manning (San Diego Chargers)
2012 season: 0 snaps, 0 Tkl, 0 Ast, 0 sacks, 0 INTs, 0 FF
2013 season (projected):0 snaps, 0 Tkl, 0 sacks, 0 INTs, 0 FF
It's rare that the Packers give up on a drafted player after only 1 year, especially after Manning made news by declaring himself better than defensive rookie of the year Luke Kuechly.  A mysterious stomach bug derailed Manning for all of the 2012 season and during this offseason, Manning was behind Robert Francois, Jamari Lattimore and apparently was beat out by rookie Sam Barrington.  The San Diego chargers claimed Manning off waivers, released him during the 53 man roster cuts and then signed him to their practice squad.  Also interesting was that with Manning being claimed off waivers, the San Diego Charges released DJ Smith, another former inside linebacker for the Packers who is currently a free agent.  At the moment, Manning projects as the 4th or 5th inside linebacker should he be called up, which is looking more and more realistic as Manti Te'o continues to struggles and the Charger's defense continues to be decimated by injuries.  It's hard to say if the Packers would be better off with Manning or his replacement, Manning was a draft pick who again has the alibi of injuries to cover his lack of production, but the fact that Manning wasn't even able to make the roster of the San Diego Chargers speaks volumes, the Packers have some reliable backups and some intriguing rookies so Manning isn't likely to be missed.
Desmond Bishop (Minnesota Vikings)
2011 season: 916 snaps, 95 Tkl, 26 Ast, 5 sacks, 0 INTs, 2 FF
2013 season (projected): 56 snaps, 12 Tkl, 4 Ast, 0 sacks, 0 INTs, 0 FF
Perhaps the one example of a player who finally broke free of the "All Oneida" curse, Bishop actually converted several spectacular offseasons to a successful regular season showings.  Unfortunately, Bishop tore his hamstring (which is potentially career ending) during the 2012 preseason and it appeared that the Packers were convinced he'd never return as they released him right as the offseason started.  Naturally, all big name former Packers end up with the Minnesota Vikings, but the Packers were proven right as reports indicate that Bishop just barely made the roster.  At the moment, Bishop projects as the backup inside linebacker and doesn't seem to be destined for a larger role unless injuries strike.  If Bishop ultimately regains his 2011 form, then this will be a huge loss for the Packers defense as Bishop was their best inside rushing threat as well as a thumper on run defense.  However it appears as if Bishop is still recovering from his hamstring injury and may be too old by the time he fully recovers.  At the moment it looks like the Packers are better off without Bishop but that could change if Bishop has a fast recovery.
Overall, looking at the list of former Packers is like looking at a double-edged sword.  On the plus side, I don't think the Packers have regretted letting any of these players go; obviously Greg Jennings has been the most productive of the group, but he certainly hasn't lived up to the contract that the Vikings have given him as of yet.  Only Erik Walden has recorded any significant snaps outside of Jennings and frankly Walden was more of a liability on the field than anything else so it appears that the Packers really do know when either a player is on the back end of their career or has just hit the wall in terms of their ability.  On the negative side, it's a little distressing to see the Packers rely on so many players that aren't even contributing on their new teams.  Moses, Crabtree and Green all played significant snaps last year for the Packers but have barely seen the field this year, let alone made plays.  I haven't even mentioned Graham Harrell, the Packers backup quarterback in 2012 who didn't even make it to the 75-man roster cut and is currently a free agent after being signed and cut by the New York Jets.  Overall, I would say the Packer definitely give their own players as many chances to make a difference before ultimately giving up on them, which shows a good front office and coaching staff.  On the other side of coin, it looks like a player is really done if the Packers give up on them.
——————
Thomas Hobbes is a staff writer for Jersey Al's AllGreenBayPackers.com.
——————