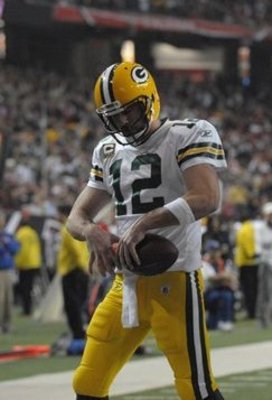 Next time you complain about Aaron Rodgers holding the ball too long or grimace at the memory of a Brett Favre interception, remember this: The Packers have had the best quarterback in the NFL for seven of the past 17 seasons.
That's the conclusion Grantland's Bill Barnwell reached, anyway, after a comprehensive study breaking down the NFL QB championship belt holder since 1959.
Yes, Barnwell's findings are subjective, but even if his logic is a little flawed, it's still damn impressive just how good the quarterback play has been in Green Bay over the last 17 seasons.
Barnwell goes on to highlight how a quarterback's reign at the top typically doesn't last very long. No QB has spent more than four seasons with the QB championship belt. Rodgers has been the best since 2010. He'll turn 30 this season and the next crop of young quarterbacks are rapidly advancing as top contenders to take his title.
Of course, if Rodgers' reign does end, it doesn't mean he'll turn into a jobber. There's nothing wrong with being the Intercontinental Champ or even a tag team title holder. Rodgers would still be more than capable of winning the cage match known as the Super Bowl and bringing another team championship belt back to Green Bay.
Kurt Warner ended Favre's four-season reign from 1995-98. Favre, Johnny Unitas, Joe Montana and Petyon Manning were the only QBs to wear the belt for four straight seasons.
Yes, I'm still going to holler at my TV when Rodgers ignores a wide open receiver underneath and heaves a pass 50 yards downfield that falls incomplete. I'll still curse some of Favre's silly interceptions and his divorce from the Packers.
But deep down, I'll know that the Packers have been lucky enough to have both the Hulk Hogan and Ric Flair of quarterbacks over the last 17 seasons. Two all-time greats. Two memorable characters. Two world champions.
——————
Adam Czech is a a freelance sports reporter living in the Twin Cities and a proud supporter of American corn farmers. When not working, Adam is usually writing about, thinking about or worrying about the Packers. Follow Adam on Twitter. Twitter .

——————