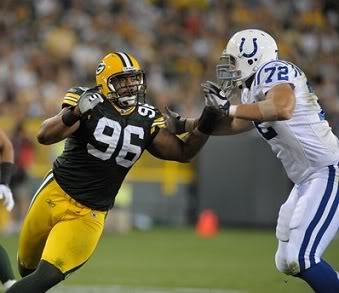 Admittedly, the Packers can't claim to have much depth at outside linebacker at the moment; of course they have one of the best in Clay Matthews III, another 1st round selection they are high on and hope to see marked improvement in Nick Perry and a undrafted free agent looking to make a big jump in year 2 in Dezman Moses.  But that's pretty much it in terms of actual experience; the Packers did draft Nate Palmer, a projected outside linebacker in the 6th round from Illinois State (much to the chagrin of commenters apparently) but they also did lose Frank Zombo to Kansas City and interestingly Erik Walden to the Colts for a 4-year $16 million contract (this is after the Packers signed Walden last year to a veteran minimum contract worth $700,000).  There has been some speculation that either Brad Jones or Jamari Lattimore, both who joined the Packers as outside linebackers but where converted to inside linebacker last year, could again make the transition back to the outside.
However, one dark horse candidate making headlines in OTAs was Mike Neal.  Just from initial impressions, you have to wonder what the Packers are doing.  2012 1st round pick Nick Perry was a little bit of a "square peg" weighing in a 271 pounds at the draft, but Neal outweighs Perry by a good 25 pounds.  Add to that Neal's inexperience in playing from a two-point stance, and the multitude of extra responsibilities outside linebackers have (most notably dropping back into coverage) and Mike Neal is probably the last guy you'd think could have a shot at playing outside linebacker. Ironically most 3-4 outside linebackers in the NFL are converted 4-3 defense ends, but this is the only occasion I can think of where a college 4-3 DT has been asked to transition to 3-4 outside linebacker.
Yes the Packers are tinkerers during the offseason; they love to mix and match offensive linemen and you'll see players line up all over the place, but at least in my opinion, most of these were just small experiments to see how players would react to a new position; after all if getting the most out of a player is the main goal of a coaching staff, it would make sense to see how much positional versatility or even positional potential each player has.  Again, I would argue that if Neal had been a complete disaster the moment he lined up at linebacker (and I don't think that should be a fault on him), the Packers probably would have pulled the plug on that idea in a hurry.  However, it does seem like the Packers like what they have seen and are willing to expand the experiment further.
If Mike Neal does truly see some snaps at outside linebacker this year, and that's not a given at this point, he has to replace someone, the question is who?
Mike Neal replacing Nick Perry: This would seem to be the most logical conclusion, after all you aren't going to bench the highest paid outside linebacker in the NFL in order to throw a defense end in right?  Ironically, it might be the other way around, as Mike Neal doesn't really offer much over Perry; Perry's strongest suit at the moment is run defense and Neal's combination of almost 300 pounds and a well-documented history of brute strength should make him as stout against the run.  As for pass rush Neal has shown some potential at getting to the quarterback, but then again so has Perry.  One interesting idea would be swapping Perry and Neal in obvious passing situations; Perry was publically quite hesitant to convert to outside linebacker during the draft and perhaps the Packers think he could do more damage as a down linemen, sort of like Aaron Kampman in his final year in Green Bay.
Mike Neal replacing Clay Matthews:  What possible reason could the Packers have in replacing Matthews with Neal?  Matthews is by far a better pass rusher, pass defender and as many offenses have figured out is a stalwart run defender as well.  Outside of keeping Matthews fresh, there could be any reason to replace Matthews with Neal right?  The only situation I can think of where it would make sense would be for Matthews to play inside linebacker on certain plays; while most fans think of Matthews turning a corner on a hapless offensive tackle, Matthews has actually done a lot of damage rushing interior linemen on stunts and delayed rushes, add to that his ability to cover the middle of the field and he actually makes a pretty good inside linebacker on passing downs.  A linebacker set composed of Nick Perry, Clay Matthews, Desmond Bishop/Brad Jones and Mike Neal would appear to have a lot of pass rush variability, which was something Dom Capers was successful with early on in his career, but he has stopped doing most likely due to personnel.
Mike Neal isn't really replacing anyone: One possible answer is that the psycho package is making a comeback and Neal would be a logical candidate as the lone defensive linemen.  Last time it was really used Cullen Jenkins was often the lone defensive linemen and he alternated between a traditional 3-point stance and an "amoeba" 2-point stance where he moves around the line before the snap.  As a defensive linemen, you almost never move around that drastically before the snap  (especially from a 2-point stance), but outside linebackers do it all the time, so perhaps all this training at outside linebacker during the offseason is just trying to get Neal more experience in a 2-point stance as well as giving him some experience pass rushing from different locations.
Mike Neal is a response to Colin Kaepernick: A lot of people have been saying that shifting Neal to outside linebacker makes the team better against read-option/pistol quarterbacks, after all the Packers will face Kaepernick and RGIII to start off the season.  Personally I don't really see the advantage, perhaps the most important thing about defending against these types of quarterbacks is awareness (point: Erik Walden still doesn't know where Kaepernick went), and defensive linemen aren't the most aware because there's only so much you can see with your head to the ground and a 300+ pound offensive linemen directly in front of you.  Neal probably isn't faster than Matthews or Perry so chasing an athletic quarterback doesn't seem to be much of an advantage either.
Mike Neal is a decoy outside linebacker:  Could the Packers be moving Neal around to mess with opposing offenses?  Every year every team brings out new wrinkles that fans automatically assume will cause defenses around the league to work on one more thing during the offseason (hence the argument that the Packers should run a little read option/wildcat/whatever is in vogue at the moment).  Personally, I don't think teams really have time to operate in complete subterfuge; every snap Neal takes at outside linebacker is one he could be taking at defensive end and with Neal's long injury history and suspension for Adderall, he needs every snap he can get because he's realistically only in his 2nd year.  Furthermore, Neal is also taking snaps away from the other outside linebackers who are more likely to take snaps; Dezman Moses is one player many people feel could make a big jump after a phenomenal training camp but up and down season.
Overall, I'm still not quite sure to make of OLB Neal; on one hand he's definitely not your prototypical linebacker and I'm not sure the Packers don't need him at defensive end, presumably Datone Jones will be given every opportunity to play a significant snaps and BJ Raji again figures to play a lot on the other end, but having Neal, CJ Wilson and whoever makes the team would allow for a great rotation and allow Raji in particular to get off the field every once in a while.  Stranger things have happened though, so this is definitely something to keep an eye out on.
——————
Thomas Hobbes is a staff writer for Jersey Al's AllGreenBayPackers.com.
——————