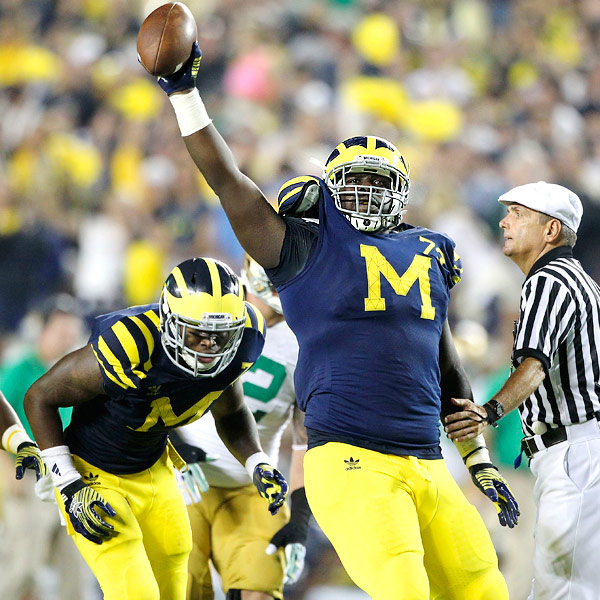 Green Bay Packers NFL Draft prospect profile: DT William Campbell
Player Information:
William Campbell, DT Michigan
6-5, 311 pounds
Hometown: Detroit. MI
Pro Day: 
40 yard: 5.15
Bench: 35
Vert: 27″
Broad: 107″
3 cone: 7.28
News and Notes:
William Campbell is your quintessential late round/priority rookie free agent.  Coming into Michigan, Williams was a 5 star recruit who never lived up to expectations; typically overweight and unrefined, Williams bottomed out when he was asked to switch to offensive line during his sophomore season.  That didn't work out either and by his junior year he was back to defense.  Things took a turn for the better when Williams reported to camp in his senior year after dropping 46 pounds, which translated to on the field production.  However, just as things were improving, Williams was charged with  felony malicious-destruction-of-property when he attempted to slide across a car hood ala Starsky and Hutch.  In the end Campbell presents an enticing mix of size and athleticism muddled with immaturity and inexperienced.
 What they're saying about him:
CBSSports.com: "Looks the part with a tall, well-built frame, broad shoulders and a large wingspan (80 inches). Can carry a lot of weight on his frame without losing his athleticism. Quick feet for his size with the agility to collapse inside and disrupt the pocket. Natural power to bully blockers at the point of attack, reset and redirect. Takes up room and has the size/strength combination to command double-teams."
Video:
Video Analysis:
Looks the part of a potential 3-4 DE.
Very fast for a guy his size; at about 1:20, Campbell starts at the line of scrimmage at the Alabama 35 and hustles to make the tackle at the Michigan 35.  Not many 300+ lbs defensive tackles can run 30 yards to catch up to a running back.
Up against the best representation of a NFL offensive line in college, I though Williams acquitted himself fairly well.  He managed to beat Barrett Jones twice (thought to be the best center in the draft) and Chance Warmack three times (though to be the best guard in the draft), once for a sack where Williams swatted Warmack's punch and "turned the corner" on Warmack (check it out at 2:40, it's like Clay Matthews in super slow motion)  It should be mentioned that Williams was also destroyed on a couple plays, and it's not like he's the second coming of Reggie White.
Has the ability to split the double team but shows a lack of consistency, most likely due to unrefined hand technique.
Was run out of plays too often.  Considering his size and strength it's a little surprising the offensive lines ended up pushing him around so much, but more surprising was that Williams looked as if he wasn't trying to fight back.  It might be an indication of poor awareness or coaching where Williams' failed to recognize the play and is just shooting his gap.
Weight is a definite issue, can he keep off the pounds that ruined his college career?
If drafted by the Packers
My opinion on Williams was he was immature going though college and that he still probably has a lot of growing to do before becoming a consumate NFL professional.  Immaturity coming from a 18-22 year old kid living on his own isn't always a potential career killer, but does cause some concern.  While his car hood sliding can easily be dismissed as innocent "guys being guys" stupidity (which is fine, the Packers dealt with Brett Favre's childish antics all those years without much issue), it appeared that his early notoriety of being a 5 star recruit allowed him to get complacent.  If he's turned the corner (and that's the biggest thing teams will be trying to figure out), Williams offers great value in the later rounds or as a priority undrafted rookie as he never fully tapped his potential at Michigan.  If signed by the Packers, Williams is probably fast enough to play on special teams and could be an early contributor to the defensive end rotation, especially considering Jerel Worthy is uncertain to play this season.  Down the road, if Williams can keep his weight in check, refine his technique and increase his on the field awareness, Williams has the size and athleticism to become what the Packers desperately need: a 3 down defensive end who can both stop the run as well as rush the passer.  Furthermore, Williams has the size to swing inside in the Packers nickel formation, adding to his versatility.  Finally, he does have experience playing the 0′ technique, so he could play nose tackle as well.  Williams also is a prime practice squad player, who can spend a year or two training before getting his chance on the 53 man roster.  Again, this is all speculation and there are a lot of ifs that need to be checked off before Williams even sets foot on a professional football field, but it can't be said that he doesn't have the tools to succeed if he so chooses.
——————
Thomas Hobbes is a staff writer for Jersey Al's AllGreenBayPackers.com.
——————