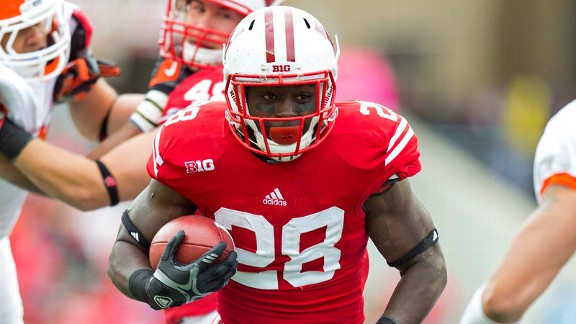 Green Bay Packers NFL Draft prospect profile: RB Montee Ball
Player Info:
Montee Ball
5'11"
212 lbs.
Hometown: Wentzville, MO
STATS:
NFL Combine:
-40-yard dash: 4.66 seconds
-Bench press: 15 reps
-Vertical jump: 32"
-Broad Jump: 118"
-3-cone drill: 6.88 seconds
-20-yard shuttle: 4.40 seconds
News and Notes: Highly recruited out of high school after racking up over 5000 yards and scoring 71 times in his final two years.  Owns the NCAA career record for touchdowns, tied Barry Sanders during the 2011 season for the single season mark with 39 and was a Heisman finalist.  Spent first two seasons at Wisconsin as a backup and ran for over 1300 yards in a "running back by committee" approach.
Ball stunned many by choosing to come back to Wisconsin for his senior year instead of entering the NFL draft in 2012.  He was assaulted on campus early in the season which resulted in a concussion.  Finished his career at Wisconsin with 5,140 rushing yards and 77 touchdowns. Ran a 4.46 40-yard dash at his pro day, which is about two-tenths quicker than his time at the scouting combine.
What they're saying about him:
NFL.com: "Reliable, hard-working zone back. Presses the line of scrimmage, and generally has good vision and feel to find the cutback lane or cut away from penetrating defenders. Smaller back with a lot of wear on his tires. Possesses average overall size and straight-line speed. One speed runner who another gear to accelerate once in space, and doesn't have elite agility to elude quicker defenders."
CBSSports.com: "Ball does a nice job finding the run lanes and attacking the line of scrimmage with good quickness in tight areas, showing the speed to get around the edge. He has good balance and deceiving run power to slip out of tackles, rarely going down easily.  With more than 600 touches (so far) on his collegiate resume, Ball has put a lot of tread on his tires and shocked many when he decided to return to school for his senior season. But as long as he stays healthy, he will be one of the highest-rated backs next April and could hear his name in the first few rounds."
Video:
Video Analysis:
-Very good after initial contact. Able to bounce off and get extra yards on what should have been either no gain or a short loss.
-Whiffed on a blitz pickup.  Luckily a lineman was there to buy the quarterback an extra second
-Changes direction well, but you can tell he has a strong offensive line in front of him.
-Benefits from holes opened by the line. Can the Packers offensive line do this?
-Accelerates well.
-Not real aggressive in pass protection when he's call upon to do so.
-Keeps his legs moving
-Power runner. Runs right through the defense.
If the Packers draft him:
Thanks to a shaky combine, Ball's draft stock took a bit of a hit.  After the 2011 season, many expected him to be a third round pick and that likely played into why he went back for his senior season.  He's still projected around the same spot though some teams may reach for him earlier.
Green Bay could be one of those teams.  Running back is likely near the top of the list as far as needs go for the Packers, but GM Ted Thompson doesn't draft for need (or so he says).  If the Packers are serious about establishing a run game, Ball is a possibility but there are others out there both earlier and later that could suffice.  Eddie Lacy from Alabama and Kenjon Barner from Oregon come to mind as players that could be selected before and after Ball, respectively.
A big concern the Packers should have about Ball is the amount of wear and tear on his body.  Green Bay has seen Ryan Grant, James Starks and Cedric Benson all miss extended periods the past few seasons.  The Packers need a durable back.
That said, Ball is a physical runner and the way he can get yards after initial contact is a bit reminiscent of Adrian Peterson.  His style would suit a Packers offense well considering it has been criticized as "soft" lately.
Where Ball stands to improve the most is in pass protection.  Far too often I saw someone who put his hands on a defender but didn't really push the guy out of the way.  If Ball could watch some tape on Brandon Jackson from his time in Green Bay, he would be well served.
Finally, I cannot help but wonder if Ball benefitted from a stellar offensive line.  Don't get me wrong, every good running back has a good offensive line but would Ball struggled with the Packers' unit?  They're not exactly known for opening big holes for running backs.  If McCarthy is serious about establishing the run, a physical lineman probably needs to be on the draft board as well.
Some want Ball to come to Green Bay because of the Wisconsin connection and the Packers haven't drafted many Badgers. Maybe there's reason for that. Perhaps Wisconsin's style of play doesn't translate well into how the Packers play.
Ball would be an interesting pick for Green Bay, but I think Thompson can do better both earlier and later in the draft.
——————
Kris Burke is a sports writer covering the Green Bay Packers for AllGreenBayPackers.com and WTMJ in Milwaukee. He is a member of the Pro Football Writers of America (PFWA) and his work has been linked to by sites such as National Football Post and CBSSports.com. Follow @KrisLBurke
——————