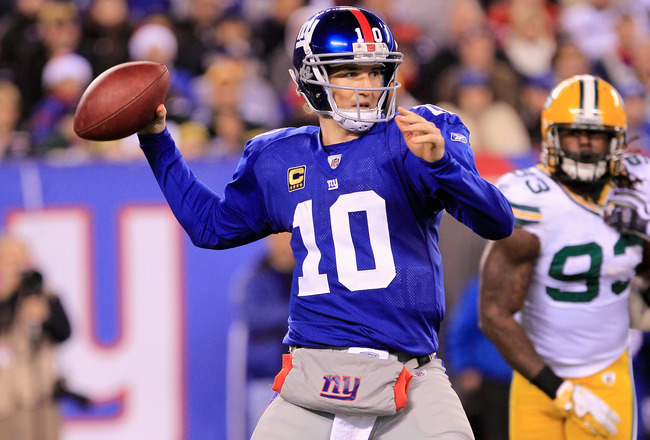 It's a game Green Bay Packers fans likely have had circled on their calendar since the schedule was released in spring.
At the end of last season, the New York Giants brought the Packers' magical 15-1 season to dead stop as they beat Green Bay 37-20 at Lambeau Field on their way to the Super Bowl XLVI title.  It was one of the most stunning defeats in franchise history and the players and fans have been waiting patiently for a chance at revenge.
This Sunday, they get their chance.  The Packers get to face the Giants in New York Sunday night. The Packers are coming off an ugly 24-20 win over the Detroit Lions and lead the NFC North with a 7-3 record.  The Giants are coming off their bye and lead the NFC East with a record of 6-4.
The Packers face a Giants team that has been struggling as of late.  Quarterback Eli Manning has thrown zero touchdown passes and four interceptions in the last three games in which the Giants have a 1-2 record.   The team rested Manning who thought he may have been suffering from a "tired arm" and he says the time off has helped his arm recharge.
How will he fare against the Packers this week?
Scouting the Giants
Struggles aside, this is not a Giants team that should be taken lightly.  It's not like the Packers need to be informed of that.
Manning has had his way with the Packers and could continue to given how banged up the Packers defense is.  If the game is close in the fourth quarter, that's when Manning is at his best.  With Victor Cruz, Hakeem Nicks and Domenik Hixon leading the receiving corps, Manning has his fair share of targets to choose from.
Nicks has been banged up all season but is finally getting healthy.  He is the key to the Giants offense.  With him on the field, things open up more for Cruz and defenses usually cannot cover both.
The Giants rushing attack is led by Ahmad Bradshaw.  Bradshaw has 675 yards this season and is averaging 4.5 yards per carry with four touchdowns.  He hasn't gained more than 57 yards on the ground since Week 6.  The Packers have a fairly solid run defense so it will be tough for Bradshaw to get going again versus Green Bay.
Defensively, the Giants most recently were lit up by Andy Dalton and the Cincinnati Bengals and now face a much more potent offense in Aaron Rodgers and the Packers.  Justin Tuck, Jason Pierre-Paul and Osi Umenyiora lead a defensive front that, while also struggling, can bring pressure as well as any other defensive line in the NFL.  There is no doubt they are licking their lips at the sight of a banged up Packers offensive line.
If Rodgers has enough protection or can extend plays just long enough, he could be able to pick apart the Giants secondary.  Antrel Rolle leads the way for a thin defensive backfield.  Even without Greg Jennings, the Packers receivers should find favorable matchups.
Keys to a Packers victory
Protect Rodgers
The Packers had pass protection issues before Bryan Bulaga went down for the year with a hip injury and they will get a big test Sunday against the Giants defensive front.
Evan Dietrich-Smith is now at left guard with TJ Lang moving to right tackle to replace Bulaga.  Dietrich-Smith had a tough go against the Lions and will need to improve dramatically if he is going to be of any help against the Giants.
The Packers can rip apart the New York secondary but Rodgers will need time to throw.
Start fast
The Packers won't be able to afford a slow start against the Giants.  The Packers will need to score eary and often, much like they did against the Houston Texans, if they want to beat the Giants.   If this game is close late in the fourth quarter, Manning very well could end up with the ball last and that could spell trouble for Green Bay.
Mike McCarthy needs to keep his foot planted firmly on the gas pedal for this game.  With revenge playing a key role in this game, you can bet Rodgers will be playing angry.  That's bad news for the Giants.
As long as McCarthy and Dom Capers remain aggressive, the Packers very well could be able to control the game's tempo.
Get to Eli
Manning's arm may have been tired, but the Packers will need to make sure Manning doesn't even have time to throw.
Even if they don't have Clay Matthews, the Packers have enough power at the decimated linebacker position to get to Manning.  Dezman Moses had a stellar debut last week against the Lions and he could easily back that up against a weakened Giants offensive line.
If the Packers can force even just two turnovers and convert those into points, then they should be we on their way to victory.
Prediction
Packers 21, Giants 20
A motivated Packers team going up against a rested and angry Giants squad.  This should be one heck of a matchup, to quote John Madden.
It will be a close game throughout, but it will be Rodgers and not Manning with the ball late.  The Packers won't be able to get into the end zone and will have to rely on Mason Crosby to win the game.
It says here Crosby gets his groove back and gets a huge confidence boost as he wins the game at time expires.  Call me crazy, but it's a hunch.
——————
Kris Burke is a sports writer covering the Green Bay Packers for AllGreenBayPackers.com and WTMJ in Milwaukee. He is a member of the Pro Football Writers of America (PFWA) and his work has been linked to by sites such as National Football Post and CBSSports.com. Follow @KrisLBurke
——————