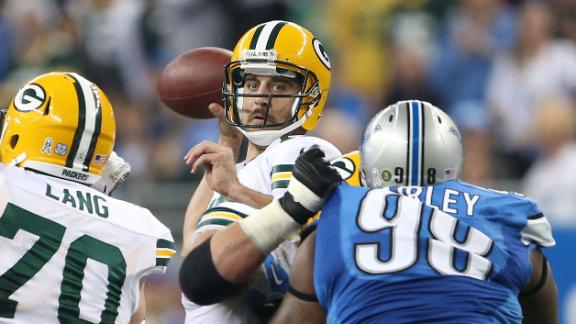 It was ugly but when it comes to winning division games, the Green Bay Packers will take any kind of victory.
In their 24-20 win over the Detroit Lions, the Packers made enough plays on defense plus one spectacular Randall Cobb catch late in the fourth quarter to come out on top to go to 7-3 on the season and 2-0 in the NFC North.
The Packers had their issues on offense but the defense was spectacular.   Matthew Stafford was sacked five times and intercepted twice, including one that was returned for a touchdown.  Even without linebacker Clay Matthews, the defense was aggressive and the young players in the secondary came up big when a play needed to be made.
The offense, on the other hand, was another story.   With Bryan Bulaga now out for the year, TJ Lang was moved to right tackle and Evan Dietrich-Smith got the start at left guard.   Their inexperience at their respective positions was evident thanks to multiple holding penalties and quarterback Rodgers often running for his life.
Let's take a look at the good and the not-so-good from Sunday's game. There were many standouts, but here are three that played well and three that left room for improvement.
Game Balls
TE Jermichael Finley
We have all been pretty tough on the Packers starting tight end, but to finally be able to put him in the Game Ball part of this column is an absolute thrill.
Finley came up big against the Lions during a game in which the Packers struggled to get in any kind of tempo on offense.  Finley finished the game with three catches for 66 yards and a touchdown.  His 20 yard catch and run gave the Packers their first lead of the game and he had a clutch 40 yard catch late in the fourth quarter that helped set up the go ahead touchdown catch by Randall Cobb.
Finley's issues with his hands and his mouth are well documented.  He was feeling the heat from many fans especially with the big play emergence of Tom Crabtree in the passing game.  Hopefully this game can serve as a springboard to bigger and better things for Finley which would add just one more explosive element to an offense that is not short on weapons.
LB Dezman Moses
There was major concern over how well the linebackers would perform without Matthews when they already were missing Desmond Bishop, Nick Perry and DJ Smith.   Rookie Moses was one of the players under the spotlight going into the Lions game and he did not disappoint.
Moses caught the eye of many fans during training camp and the preseason but he found himself buried on the depth chart.  Thanks to the aforementioned injuries, Moses got his chance against the Lions.   He finished the game with one tackle, a sack and a forced fumble.  His performance cannot be measured in pure statistics as he was disruptive and was getting to Stafford even though he only brought him down once.  His forced fumble halted a Lions drive that could have potentially put the Lions up two scores and would have forced a struggling Packers offense to take more chances.
While you can't just replace someone like Matthews, Moses showed enough in his first start to at least give some fans some hope the Packers can hold their own without their biggest playmaker on defense.
RB James Starks
Much like Finley, many were waiting for a good showing from Starks.  When Cedric Benson went down with a Lisfranc injury, it was expected that Starks and Alex Green would split time in the backfield.  With Green struggling to develop into an every down back, it was Starks' turn this week to step up and try his luck.
Starks over the past season or so struggled with being a more decisive runner and making his cuts.  He showed none of that on Sunday as he looked like a man who was running with a purpose.  Starks carried the ball 25 times for 74 yards, which averaged for just under three yards per carry, but he got big first downs when the Packers needed them.
What was really eye opening was the power in which Starks ran.  He often was able to get an extra couple yards even after the Lions had him wrapped up.  Mike McCarthy did not want to go away from the run and was sometimes even stubborn in continuing to run the ball, but Starks played well enough that he warranted continued commitment to the run.
S M.D. Jennings
Jennings was robbed of that interception of the end of the infamous game against the Seahawks.  Karma owed him one and he got it against the Lions.
Jennings' 72 yard interception return for a touchdown was the catalyst that sprung the Packers to victory.   He only had one tackle on the day otherwise but sometimes all it takes to make your presence known is one play and that's what Jennings did on Sunday.
Lame Calls
K Mason Crosby
It's now a fact and it's not even debatable: there is something severely wrong with Crosby.
All confidence Crosby once had in himself seems to have completely vanished.  He missed consecutive 50 yard field goals (one wide right after a timeout was called then wide left on the following attempt) and then missed an inexcusable 38 yard attempt.  In a game that was going back and forth, there was a good chance the game could have come down to a field goal.  Did anyone really think Crosby could have made it?
In his postgame press conference, McCarthy said that Crosby needs to make kicks and that his job status is performance based yet later on said he "wouldn't blink" in standing by Crosby.  The Packers really have no choice but to at least bring in a kicker to push Crosby or possibly replace him.  The Packers are not running away with the division like they did a year ago, and games going forward have a fair chance of coming down to a final kick.
Crosby can't be counted on to make such plays.  Therefore, something needs to be done.
G Evan Dietrich-Smith
When Bulaga's injury was announced and Dietrich-Smith was named a starter for this game, it was feared Dietrich-Smith would be a liability at left guard with Lang moving over to right tackle.
Those fears turned out to have merit.
Dietrich-Smith had his share of penalties, both holding and false start, and was beaten by the Lions defensive line regularly.  He is one of two linemen tasked with protecting Rodgers' blind side and he is hopefully going to improve as time goes on.
If he does not, then the Packers may have no choice but to bring in another offensive lineman or even reshuffle their current line again.  Rodgers cannot continue to be under the pressure he has been. His athleticism can only extend plays for so long.
CB Tramon Williams
It's always tough to defend Calvin Johnson, but Williams absolutely was owned by Megatron on Sunday.
Johnson finished the game with five catches for 143 yards and a touchdown.  Williams was constantly beat by Johnson and struggled all day to keep pace with him. It was a tough assignment to be sure, but if Williams wants to be known as one of the best corners in the league then he is going to have to handle the league's best receivers.
Williams handled Brandon Marshall in Week 2.  He didn't fare so well against Megatron
Head Coach Mike McCarthy
Since the Packers won, it would not be fair to label this one the worst games McCarthy ever called but he definitely did not call his best game.
The ugliest part of the game for McCarthy was his clock management at the end of the first half.  Rodgers had just been sacked at the Detroit 32 yard line and instead of taking their second timeout with around :25 remaining, the Packers were content to let the clock run all the way down to :03.
Crosby then missed a 50 yard field goal and the Packers went to the locker room down by three instead of the game being tied at 10.
McCarthy also had some questionable play calls on third down.  McCarthy would rather go for the home run at times rather than just being content with just getting the first down ball.  McCarthy has to realize he is going to have run his 2010 offense instead of the 2011 version thanks to the injuries the Packers have along the offensive line and at receiver.
The Packers need to take advantage of every yard the defense gives them.  Getting 10 yards and a first down sometimes is just as good as a 40 yard gain.  Getting their wounded defense as much rest as possible will be key going forward and the Packers will need long drives on offense to do that.
——————
Kris Burke is a sports writer covering the Green Bay Packers for AllGreenBayPackers.com and WTMJ in Milwaukee. He is a member of the Pro Football Writers of America (PFWA) and his work has been linked to by sites such as National Football Post and CBSSports.com. Follow @KrisLBurke
——————