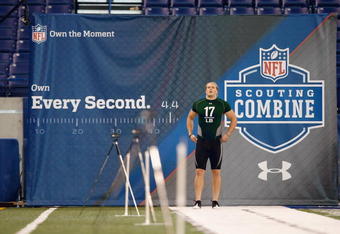 Let's play devil's advocate for a second and argue that Ted Thompson should trade up in the draft.  Now I'm not going to be crazy and say that Thompson should trade away every pick the team has in order to pull off a "Ricky Williams", but moving some of the picks to get better position in the draft does have its benefits
My reasoning is that having too many draft picks can actually be detrimental to the team.  When Thompson took over operations from head coach/general manager Mike Sherman, the team was in a salary cap nightmare and as a result Thompson needed every draft pick badly in order to restock the roster with low-cost, high-reward players.  Also, since the team was stocked with players from the old regime, Thompson had no qualms getting rid of player in lieu of his own guys (all new GMs do this subconsciously if not very consciously) and the easiest way to do that was through the draft.
As a result from 2005, the first year Ted Thompson started drafting for the Packers, to 2010 only 6 out of 57 drafted players  (about 10%) have failed to make the 53 man roster; 2005 6th round pick Craig Bragg, 2006 4th round pick Cory Rodgers, 2006 7th round pick Dave Tollefson, 2007 5th round pick David Clowney, 2007 7th round pick Clark Harris and finally 2009 5th round pick Jamon Meredith.  So far this system has worked pretty well for Thompson; he's drafted the vast majority of the current team and the Packers have won the Super Bowl and posted a 15-1 season under Thompson's regime.
However last year in the NFL draft, Thompson was forced to get rid nearly 30% of the players he drafted, triple the average; 6th round Ricky Elmore had a terrible time converting from a 4-3 DE to a 3-4 OLB and didn't show much in special teams and was probably one of the first players to be cut.  Fellow 6th round pick Caleb Schlauderaff was also slated to be cut as well if Thompson hadn't been able to trade him off to the New York Jets first for a undisclosed draft pick (most likely a 7th rounder).  Finally 7th rounder Lawrence Guy was also likely to be cut, but instead ended up on the IR list all season.  This is in essence squandered resources as these picks could have been used as bargaining chips to put the Packers in a better position to select better players, or in other words trade up.
This year, Thompson may have more draft picks than he's ever had with the 7 standard draft picks awarded based on the previous year's record, probably another 7th rounder for Caleb Schalauderaff and presumably at least 3 compensatory picks, one each for ILB Nick Barnett (signed with the Buffalo Bills), OG Daryn Colledge (signed with the Arizona Cardinals, who might net the highest compensatory pick due to his large contract and playing time) and DE/DT Cullen Jenkins (who signed with the Philadelphia Eagles).  Of course, the exact formula used for determining compensatory picks is unknown outside of the NFL, but the presumption is that these picks are awarded based on the contract and play of the free agents who departed the team last year versus the contract and play of the free agents who were signed last year (which there were none of note).
So for all intents and purposes, and presuming that the Packers don't sign any free agents of note this year as well, which is pretty much a given, the Packers could very well expect to have 11 draft picks this year, and so the question becomes, is Thompson going to be able to cut nearly 20% of the 53 active roster in order to keep all those draft picks?
The short answer is no, just look at what happened last year.  The Packers have good depth at most positions, and with most players being selected by Thompson are likely going to fit into the Packers team philosophy, so there isn't going to be a easy cut on the roster.  So the chances of a late round rookie making the team are considerably harder than it is on other teams who are going through head coach/GM transitions or are in full rebuilding mode.
One argument against using low round picks to move up in the draft is that drafting a player gives the team a better chance of signing them to the practice squad; but in my opinion if there's a player the Packers want on their practice squad, they shouldn't be drafting them in the first place.  Another argument is that drafting by quantity will improve your chances of finding a late round gem; but as Tramon Williams, Arian Foster and Victor Cruz showed, drafting is such an inexact science that plenty of great players don't even get drafted at all.  Furthermore, it makes more sense to draft a player you feel confident about rather than many players who you don't but may become great players in the future.
Simply put the more draft picks you have, the more options are available to you, but they have to be used as currency in the draft.  For instance, in 2009, the Packers came in with an extra 6th rounder (from a trade for the Packers 7th round pick in 2008 with the New Orleans Saints) and an extra 3rd rounder, which the Packers got from the Jets for he-who-will-not-be-named.  With more picks, Thompson was able to package his 2nd round pick and both 3rd round picks in order to draft outside linebacker Clay Matthews III, which I think everyone agrees turned out pretty well.  But more importantly, the Packers were able to draft Matthews without completely decimating their draft that year, as they still were able to draft 8 players, most notably starting guard TJ Lang, who is an up and coming player.
This year could be very similar.  With so many compensatory picks, the Packers could make a single big trade or a couple smaller ones and still have enough picks to draft developmental players for the future.  The worse that could happen is to waste the picks by drafting players who don't have a chance to make the roster.
——————
Thomas Hobbes is a staff writer for Jersey Al's AllGreenBayPackers.com.
——————