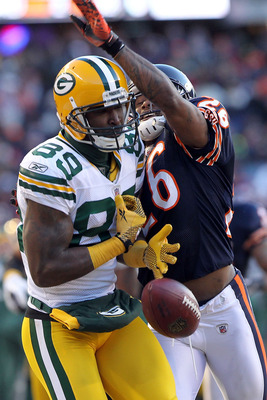 Well the lockout has  finally ended and we can all get back to talking about real football. One of the first topics to tackle is free agency, which the Packers should have a pretty easy time with.  The Packers, who under General Manager Ted Thompson have a long history of ignoring free agency and locking up their own players well in advance, should be able to stay clear of the feeding frenzy that will ensue for players like Nmandi Asomugha and other big profile free agents.
Closer to home, the Packers are pretty much squared away with their own players as well.  Players like John Kuhn and Mason Crosby make up the majority of the Packers free agent class and should be resigned (if the Packers choose to do so) without much issue.  The two notable exceptions are Cullen Jenkins and James Jones.
Cullen Jenkins in my opinion is good as gone, he has a shot at setting the bar for free agent defensive linemen this year and felt a little snubbed that the Packers made no attempt to try to resign him during the season, which probably has to do with his age and injury history.  However his versatility in 4-3 and 3-4 defensive fronts and his overall production will make him a hot commodity.
James Jones on the other hand is a little bit of an enigma.  Head coach Mike McCarthy and quarterback Aaron Rodgers have said all along that Jones would likely be a #1 or #2 receiver for any other team other than the Packers, but at the end of the day his production doesn't reflect that.  How much of that is the Packers fault for having so many other options for Rodgers to throw at and how much is Jones fault for not making himself more available for Rodgers to throw to and dropping balls?
Tier 1 – $5 million and over per year average salary: Antonio Bryant (Cincinnati Bengals, $28 million, 4 years), Braylon Edwards (New York Jets, $6.1 million, 1 year), Nate Burleson (Detroit Lions, $25 million, 5 years), Chris Chambers (Kansas City Chiefs, $15 million, 3 years)
From James Jones' perspective: In my opinion, it's highly unlikely that James Jones will be able to land a mega-deal from any team.  As the Packer's 3rd or 4th receiver, Jones production was severely suppressed by Greg Jennings, Donald Driver, Jordy Nelson and Jermichael Finley.  Will he be capable of succeeding as a #1 receiver where he is constantly double-teamed and schemed against?  That remains to be seen.  Vincent Jackson and Sydney Rice are probably going to set the bar in terms of wide receiver contracts this year based on production and experience as #1 receivers and I don't think many people would put Jones up there with Jackson or Rice.
From the Green Bay Packers perspective: While its highly unlikely that Jones lands a mega-deal from another team, stranger things have happened.  Antonio Bryant was given $7 million and then subsequently cut by the Bengals before playing a down and the Raiders stupidly gave washed out receiver Javon Walker a 6-year $55 million deal which promptly exploded in their face.  Needless to say, teams who have a history of signing free agents to highly inflated contracts, such as the Washington Redskins could be interested enough in Jones to make such a deal.
If Jones were to receive such an offer, there would be basically no chance that the Packers try to match.  The list of young players that the Packers have a higher priority of keeping long term include Josh Sitton, Jermichael Finley, BJ Raji and Clay Matthews, each who are pro-bowl caliber starters who have much higher potential than Jones.
Tier 2 – Around $4 million per year average salary: Jason Avant (Philadelphia Eagles, $18 million, 5 years), Derrick Mason (Baltimore Ravens, $8 million, 2 years), Kevin Walter (Houston Texans, $21 million, 5 years)
From James Jones' perspective: Realistically, Jones will probably see offers around this range.  While not getting paid premium money, he still will be making considerably more than last year, which was the last year of his rookie contract as a 3rd round draft choice.  In my opinion Jones gets a contract a little higher to Jason Avant and Kevin Walter; Jones probably will get looks from teams looking for a #1 receiver and Jason Avant and Kevin Walter were resigned to be behind DeSean Jackson and Andre Johnson respectively.  But like Avant and Walter, Jones is a younger player whose approaching the prime part of his career and teams will probably assume this his limited production is because of being buried under the Packers receiving core, which is considered the best in the league.  Most teams will probably try to get Jones for a long-term competitive deal.
From the Green Bay Packers perspective: At this price range, the Packers have options.  On one hand, the Packers are a passing first team and keeping Jones would provide some stability in the receiving core, especially considering that Donald Driver is finally showing his age and Randall Cobb has yet to show that he can be a legitimate NFL wide receiver (which will be hindered by the lockout).   On the other hand, the Packers will have a pretty competitive receiving core with Jennings and Finley (who is on a contract year to boot) alone and Nelson/Driver/Cobb should be able to make up for Jones' production.
Tier 3 – $3 million and under per year average-: Kassim Osgood (San Diego Chargers, $6.67 million, 3 years), Steve Breaston (Arizona Cardinals, $2.9 million, 1 year), Brad Smith (New York Jets, $1.75 million, 1 year), Antwaan Randel El (Pittsburgh Steelers, $7 million, 3 years)
From James Jones' perspective: This would be pretty disastrous for Jones and his agent; he definitely is good enough to be a #2 receiver in the league and at this level he will have to fight for another contract down the road.  The only way I can imagine this happening is that teams are concerned about his ability to be a legitimate #1 receiver and the issue of him dropping the ball, something that will hamper his ability to be that "go-to" guy.
From the Green Bay Packers perspective: There's no question that if Jones gets such a cold reception to free agency that the Packers get him back.  At this tier, his value to the Packers far outweighs his price.  I wouldn't be surprised to see Thompson get into a bidding war for Jones at this price either; if Jones' offers are this low then other teams are obviously wary of signing Jones for the long term and that gives leverage to the Packers since they know Jones' value better than anyone else.
Conclusion: So what really is James Jones value?  Personally, I would only pay for him as a tier 3 wide receiver.  Why so low?  The question I ask myself isn't whether or not James Jones is capable of being a #1 wide receiver, but why isn't he already a #1 wide receiver? Jones was given near a near optimal situation for a wide receiver; he has a quarterback who can get him the ball, an offense geared to throwing the ball, an explosive offense squad that can spread the focus of a defense, and a stable coaching staff and front office.  Greg Jennings supplanted long time #1 receiver Donald Driver so it is possible to move up the ladder, so why hasn't Jones supplanted either one of them?  If anything he seemed to be losing ground to Jordy Nelson last year.
Now imagine if Jones signed with the Carolina Panthers; you have a new quarterback in Cam Newton, a new head coach, a run-first offensive philosophy and an organization that can be charitably called a "mess".  How well can Jones possibly do then?  (As Larry Fitzgerald proved this year, you can be a top 10 wide receiver and still suck if you don't have the pieces around you to be successful)
As Bill Barnwell wrote, James Jones is potentially one of the free agents you meet in hell.  He's on a great team with other great receivers and for other teams it looks like an attractive way of getting a playmaker-to-be who was buried under by other playmakers.  Add to that the "Super Bowl mystique", Jones is a Super Bowl Champion so he must be good right?  (Counter-point: Justin Harrell is a Super Bowl Champion too, so context is important) and its highly likely that some team is going to spend more than Jones is really worth.  So while I see his value somewhere at Tier 3, I'm assuming he's eventually going to land somewhere in Tier 2.
In my opinion James Jones is not a safe bet to become a legitimate #1 wide receiver; my assumption is that he's not going to be a fantastic #1 wide receiver (or else you figure he would have passed Driver at least) so he'll either be a decent #1 or a terrible #1.  Those odds aren't what you bet the farm on.
——————
Thomas Hobbes is a staff writer for Jersey Al's AllGreenBayPackers.com.
——————