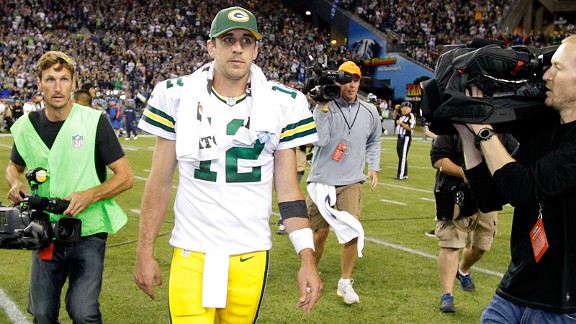 Aaron Rodgers is one of the best quarterbacks in the NFL. This much I know.
I also was firmly in the quarterback's corner when allegedly unnecessary cheap shots were thrown his way by commentators, former NFL players and relatives and agents of his current teammates.  It appeared to me, at the time, that these comments were driven mainly by jealously of Rodgers' success.  Rodgers has long stated that success wouldn't change who he was, and fans took him at his word for it.
That said, after a recent piece by Rob Reischel of Packers Plus that states Rodgers' leadership ability took some hits this season.  Rodgers' leadership ability has been coming under fire with so much regularity that I'm beginning to wonder what exactly is going on.
Keeping in mind that none of the critical remarks directed at Rodgers this past year came directly from current (or former) teammate, but sometimes in these types of situations  the same things get repeated over and over so frequently that you cannot help to think that maybe just some of this has merit.
I don't think Rodgers is a bad person or a bad leader.  His off the field work, both publicly and privately, show how good of a heart Rodgers really does have. The team's success this year shows he isn't an ineffective leader and is able to carry a team on his back for a season in which they rarely had a fully healthy group of receivers.
What this constant criticism tells me (as does Rodgers' responses) is that he is a very sensitive person.  That sensitivity was put under the spotlight in a piece on Rodgers done for CBS' 60 Minutes news program where both Rodgers and some current teammates were interviewed. Rodgers naturally bristled at the piece and criticized it heavily during his weekly radio show.
Being sensitive is by no means a bad quality in a person but it can hinder one's ability to lead a group of people. I, as a very sensitive person myself, have seen this first hand in my own life.  It doesn't make someone a "bad" leader but rather makes them less able to handle criticism and makes them more likely to hold a grudge. Like I said, I'm guilty as charged of this myself. People who follow me on Twitter know how I can get when I come under fire.
As for Rodgers, everyone has seen the positive effects of his sensitivity when he plays with a chip on his shoulder, but rarely do they see the negative implications of this such as making it hard to forgive people and not taking criticism personally.
Of course, some fans can play a big role in this by thinking Rodgers can do now wrong and not understanding the quarterback is not above criticism.  Some Packers fans, especially of late, have refused to accept any criticism of Rodgers as valid.  Rodgers is usually very good at not letting outside sources influence him, bu who's to say that this combined with his natural sensitivity is letting things go to his head.  Perhaps he realized this after this season when he made his remark about the team lacking the "hunger" that they did in 2010.
The fans are of course defending the quarterback of their team that happens to be perhaps the best quarterback in the NFL.  That's their right.  Packers fans, of all people however, should be wary of blindly defending a quarterback.  It's a lesson they should have learned from the whole Brett Favre debacle in 2008.
I'm not saying Rodgers has reached Favre territory on the diva meter. He's not even close.  Rodgers has lobbied publicly for his own teammates and not a free agent like Favre did with Moss, but it's a fine line to walk.   When McCarthy and Thompson disagree with something Rodgers wants, the quarterback seems to accept that move on which Favre didn't do.
For now, Rodgers deserves the benefit of the doubt.  The team had by all accounts a successful season despite getting blown out again in the playoffs by what could be the eventual Super Bowl Champions.
The offense still had a strong season and Rodgers again was brilliant throwing for 39 touchdowns and only eight interceptions.   His past two seasons combine to be the best two year period for a quarterback in NFL history.
That means that, perhaps because of inflated expectations, perhaps all this talk about Rodgers' leadership ability is nothing more than an overreaction by fans who are still incredibly angry about the way the Packers' season came to an end or by people who just flat out don't like Rodgers.
Here is where Reischel comes into play.  The book he wrote on Rodgers, "Aaron Rodgers: Leader of the Pack," was scrutinized by the Packers quarterback and of course Reischel would be upset by the subject of his book not liking it.  It's only a human reaction.
Reischel should be professional enough to still be able to objectively approach a story about Rodgers.  This was an issue former Green Bay Press Gazette writer Chris Havel faced when he wrote books with Rodgers' predecessor, Favre. Fair or not, once you write a book about a player you are forever labeled either for them or against them depending on the viewpoint of the book.
Does Reischel's recent article reek of a hatchet job?  In a way, yes.  The way Reischel talked about Rodgers eavesdropping on reporters talking to Desmond Bishop and replying with snide remarks to the gathered media seems to lack vital context.  Plus, if it had actually occurred, this should have come out a lot sooner than it did especially in today's world of social media.
Part of the problem was that Rodgers and many other players refused to talk to the media after the loss to the 49ers and they have no one to blame but themselves for the negative reaction the players have received since that game.
Look, I get the players were angry at the loss and were still coming to terms with emotions of having their season come to an end.  If you don't talk however, there is nothing a writer can do but speculate and that often leads to trouble.
If the NFL really was serious about the players talking to the media, perhaps an extended cooling off period after a game before the press conferences start would help. Of course, this in turn would lead to less juicy sound bytes and therefore less publicity for the NFL. God forbid that would ever happen.
To sum things up, Rodgers' leadership is constantly under fire because of many things.  He's a sensitive person so when a quarterback in the NFL comes under criticism, some sparks are to be expected.   That said, Reischel's reaction to Rodgers' critique of his book cannot be dismissed in influencing the article he recently wrote.
As the current king of NFL quarterbacks, Rodgers is under a very bright spotlight.  He may not like it, but he will continue to be in it so long as he plays well and the Packers are winning.  I can't say for sure what is going on inside the head of Rodgers, but maybe it's time for both sides here to respect who the people on the other side are.
Rodgers has the highest profile position on the team and is the face of the Packers.  With that power comes responsibility and Rodgers has been responsible with it so far in his tenure as the Packers' starting quarterback.  He doesn't conform to what other star athletes are and is an incredibly private person.  That alone is enough to drive a reporter crazy, but the media should respect that and not take shots out of spite.
——————
Kris Burke is a sports writer covering the Green Bay Packers for AllGreenBayPackers.com and WTMJ in Milwaukee. He is a member of the Pro Football Writers of America (PFWA) and his work has been linked to by sites such as National Football Post and CBSSports.com. Follow @KrisLBurke
——————