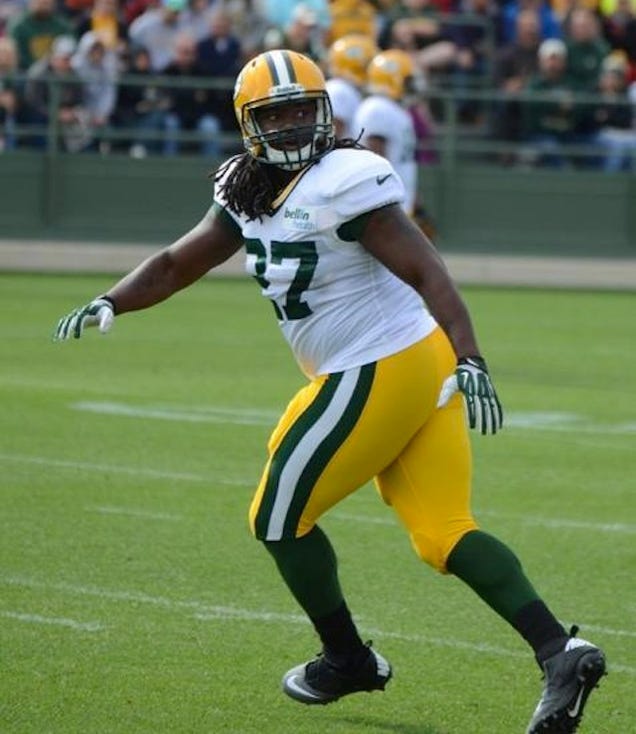 Eddie Lacy went from a too fat, too hyped running back out of Alabama to the 2013 NFL Rookie of the year (which I predicted right after he was drafted).  However, Lacy's meteoric rise to the best football player from the 2013 NFL draft was probably not as the Packers predicted; with the injury to Aaron Rodgers collarbone the Packers morphed into a conservative, ball control offense lead by pounding Lacy behind Josh Sitton, TJ Land and Evan Dietrich-Smith.  Naturally as Lacy proved to be the most effective weapon the Packers had left, he got more carries, which lead to more yards, more touchdowns and naturally more accolades.  But with the return of Rodgers with a fully healed collarbone, what can the Packers expect from Lacy?
First off the disappointing news; successful rookie running backs don't do as well on their second season.  According to statistics pulled from Rotoworld, of running backs who gained at least 600 yards during their rookie season in the last 10 years:
66% of running backs saw a decrease in their rushing production in year 2
72% of running backs who rushed for at least 7 or more touchdowns saw a decrease in their scoring in year 2
75% of running backs who rushed for at least 1,000 yards saw a decrease in their production in year 2
As the article states, there is really no concrete reason why running backs tend to decline going into their 2nd years; one possibility is that teams have a full year's worth of film to watch and thus are able to properly analyze what types of plays, holes or cuts a running back typically executes and can plan accordingly.  Another possibility is that while running backs aren't typically over utilized their rookie year, high drafted runners like Lacy already come into the league with a lot of tread off their tires; it's quite well known that running backs have one of the shortest shelf lives of any position in the NFL and it's possible that a rookie running back is already at his peak by the time he enters the NFL.  There's also the increase responsibility of being "veteran" player; rookie running backs (as well as all rookies for that matter) are often given more simple assignments and only asked to do things they are already comfortable doing.  With another offseason, 2nd year running backs are expected to fully know the offense, which for a running back includes protecting the quarterback, running a more diverse route tree, etc.  With more things to think about and being put in more foreign situations likely results in a dip in production as well.
There are somethings that Lacy does have going for him that might help him keep his previous production or even increase it:
Lacy was out injured essentially 3 games; if you project his 2013 season as a full 16 games you come up with 350 carries, 1449 yards and 13 touchdowns
Lacy is likely to see less stacked boxes with Aaron Rodgers back in the fold.  According to ProFootballFocus, Lacy trended downwards in terms of grading from week 12 onwards likely due to the fact teams knew the offense was focused on Lacy
More importantly with a healthy Aaron Rodgers, Lacy is likely going to be running out the clock with the lead; which is typically where running backs gain their statistics, especially a running back like Lacy who does best with a high volume of carries.
Overall, I think that Lacy will have lower numbers than his rookie year, but that necessarily isn't a bad thing.  In reality Lacy is not the focal point of the Packers offense, Aaron Rodgers and the passing game is.  Mike McCarthy is famous for his "quantity not quality" approach to the running game where he see's running the football a necessary evil to producing a strong passing attack.  While the addition of a runner of Lacy's caliber might sway his opinions somewhat, there's no denying that McCarthy and Rodgers are disciples of passing the ball and I don't think that would change even if Adrian Peterson was on the roster.  Finally Lacy's running style is less about yardage and more about yards per carry; if Lacy can maintain a healthy 3.5 YPC, keep the offense in good down and distance, make the play action fake something that teams actually have to think about and get the occasional tough 3rd and short I think the Packers would be happy even with a lot less production.  Hell, it might even extend his career.
——————
Thomas Hobbes is a staff writer for Jersey Al's AllGreenBayPackers.com.
——————