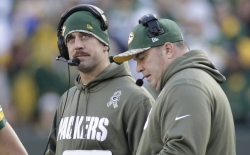 I am not a doctor. I haven't seen any scans of Packers QB Aaron Rodgers' damaged collarbone. I don't know Packers team physician Dr. Pat McKenzie or coach Mike McCarthy. I didn't stay at a Holiday Inn Express last night.
In other words, I am completely unqualified to determine whether Rodgers should be allowed to play Sunday when the Packers play the Dallas Cowboys.
But being unqualified has never stopped me before, and it's not going to stop me on this issue. I believe if Rodgers thinks he can play, he should be allowed to play. From Jason Wilde's Friday column on the topic:
"Frankly, I think if Aaron was asked the question, he wants to play. He feels he's ready to play," McCarthy told reporters Friday in his usual, end-of-the-week post-practice news conference. "Based on what he's accomplished physically and what he was able to do at practice on Wednesday and Thursday, he's ready to go."
So even the coach sounds confident that Rodgers could play. Unless scans show Rodgers' collarbone to be so fragile that it might crack in half if someone pats his shoulder pads after a touchdown pass, let him play. Why hold him back?
I get that increased risk of re-injury is probably the main concern. I've also heard Rodgers speak eloquently about injury risks that come with playing in the NFL. He has a good understanding of the risks he and other players take every time they step on the field. I don't think he would play if he thought the risk/reward balance of re-injuring his collarbone was totally out of whack.
I applaud the Packers organization for its long-term outlook and putting a player's safety first when handling injuries. Obviously, you don't want to put Rodgers out there if the risk of re-injury is off the charts. But in this instance, based on what we know and what has been said publicly, the re-injury risk has declined dramatically and the team sounds like it's being a little too cautious.
Rodgers took snaps with the first team in practice this week and apparently feels good physically. Also from Wilde's column:
"The hurdle that I know Aaron wanted to get over, he achieved it this week. He feels really good," McCarthy said.
So why is he going to carry a clipboard and wear a headset on Sunday?
Rodgers just turned 30 years old. He's seen teammates Terrance Murphy and Nick Collins have their careers ended after neck injuries. He saw Jermichael Finley suffer a neck injury this year that could end his career. He's seen countless other teammates have entire seasons and careers cut down after one play resulted in a major injury.
Rodgers has also seen Tom Brady miss an entire season after a blow to his knee. He's seen Peyton Manning miss a year with a neck injury and numerous other QBs miss significant time.
Even if Rodgers sits until the risk of re-injuring the collarbone is zero, it only takes one fluke play to suffer another major injury to a different part of his body and be back on the sideline. That's life in the NFL and Rodgers realizes that. Why live in fear of re-injuring the collarbone and not play games you're capable of playing when the risk of suffering some other type of major injury is always out there no matter when you come back?
It sounds like Rodgers is fine with taking a little extra risk because he knows he takes a risk every time he steps on the field, fully healthy collarbone or not. The Packers should feel the same way, but unfortunately, they don't.
I get that McCarthy and company are thinking long-term on this issue, but I guarantee Rodgers is thinking long term as well and it sounds like he thinks playing is the best decision for both him, his current team and the long-term future of the Packers.
Perhaps scans show that the collarbone is worse than the Packers and Rodgers are letting on. If that's the case, the Packers need to tell us that. Because right now, it appears that the team is living in fear of one specific injury when any number of injuries could happen whenever Rodgers returns.
This isn't an issue of toughness. Rodgers has already proven he's tough. This isn't an issue of organizational ineptitude. The Packers have already proven they are one of the best organizations in the NFL. This isn't an issue of unqualified fans (like me) ranting and raving about either Rodgers' toughness or how the Packers handle injuries.
This is about a specific injury to the Packers best player and whether he is ready to return or not. Based on everything that has been said, it sounds like Rodgers is ready to go. For some reason, McCarthy and the Packers don't agree.
——————
Adam Czech is a a freelance sports reporter living in the Twin Cities and a proud supporter of American corn farmers. When not working, Adam is usually writing about, thinking about or worrying about the Packers. Follow Adam on Twitter. Twitter .

——————