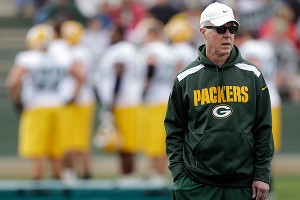 If Packers general manager Ted Thompson was a baseball player, he'd pull up his socks higher, hop over the foul line whenever he ran onto the field, put his hat on backwards, take four warm-up swings before each at-bat instead of three — anything to help change his luck and snap him out of this nasty slump.
Slumps are a combination of human ineptitude and a streak of poor luck. Good players eventually snap out of them, but every now and then, a long, nasty, confidence-killing slump can wreck a once promising career.
Thompson will snap out of the rut he's currently in. It's been a rough one, though, marked by a slew of injuries, questionable draft decisions and ill-timed contract extensions. Here's who and what Thompson can blame for his slump
Himself
Thompson did nothing to upgrade the safety and backup quarterback position this offseason, both obvious positions of need. Instead of drafting a safety or dipping into free agency, Thompson stuck with his current players and the results have been dismal. It got so bad that Thompson cut Jerron McMillian last week, a fourth-round pick  a season ago.
As far as backup quarterback, I usually don't get all wound up about that position because, in my opinion, if Rodgers goes down for an extended stretch, the Packers are screwed. Well, Rodgers went down and the Packers fell flat on their face. Where I fault Thompson here is for not recognizing just how bad B.J. Coleman and Graham Harrell were. The time to cut bait with both of them was the offseason, not training camp after all the other decent backup QBs were off the market and it was too late to draft another one.
The football Gods
I know every team deals with injuries, but what the Packers go through every season is ridiculous. It'd be easy to pick at Thompson's recent draft classes coming up short, but it's hard because most of the players have been injured.
Thompson has drafted 36 players since 2010. Of that group, 18 have suffered significant injuries at some point during their career. That list of 18 includes guys like Bryan Bulaga, Nick Perry, Derek Sherrod, Randall Cobb, Casey Hayward, and Jerel Worthy.
I'd like to declare Bulaga and Perry good players, but can't because they're hurt so often. Cobb and Hayward also established track records of success, but they've gone down this season. Sherrod and Worthy have both been cut down with serious injuries right about the time we were going to find out if they actually could play or not.
This list could go on and on.
I suppose you could say Thompson needs to do a better job researching the medical history of his draft choices, but I don't think that's a very fair criticism. The injuries are the bad luck portion of his slump.
Contract extension timing
Thompson opens up his wallet, clears away the cobwebs, and gives out giant contracts to Aaron Rodgers, Clay Matthews and Morgan Burnett. Rodgers gets hurt, Matthews gets hurt, returns, and is nowhere near the same player, and Burnett gets hurt, returns, and is suddenly the second worst safety in the NFL (behind M.D. Jennings).
The Rodgers and Matthews contracts are poor luck. The jury is still out on Burnett, but it looks like Thompson may have misjudged how good he is.
Imagine if B.J. Raji would have signed Thompson's offer for $8 million per season….
Jeremy Ross
Seriously, you know you're in a slump when you cut Jeremy freaking Ross and he suddenly morphs into the second coming of Devin Hester.
Hopefully Ross coming back to haunt the Packers is the peak of Thompson's slump and it will only get better from here. With a little better injury luck and a fresh draft class, hopefully we'll get back to saying "In Ted we trust" instead of "Dammit Ted, what were you thinking?"
——————
Adam Czech is a a freelance sports reporter living in the Twin Cities and a proud supporter of American corn farmers. When not working, Adam is usually writing about, thinking about or worrying about the Packers. Follow Adam on Twitter. Twitter .

——————