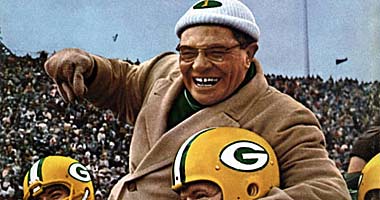 Vince Lombardi is an expected learn. Not just in snowy Packer country where Lombardi made the rest of the NFL scream "Uncle!" but throughout the globe where his level of success and achievement has been unreachable.
I was born nine years after he passed away in 1970, but the most amazing thing to me is how much that man means to a fan base that after all those years cannot stop talking about him, crawling on his imposing statue outside the Lambeau Field Atrium and cannot stop drooling at the NFL's top prize, rightly named in his honor.
"To this day that is one thing that I'm surprised at," said Lombardi's grandson John, who was in New York on behalf of his grandfather to be a part of the "Hometown Hall of Famers" celebration recently.  "I thought over time that he would fade from memory. I mean he would've been 100 this year. His 100th birthday was in June. And to still be so relevant and referred to is amazing."
The "Hometown Hall of Famers" is a program that started in 2011 and its sole mission is to highlight the hometown roots of the NFL's best players with a special ceremony and a plaque that remains in the hometown. The Lombardi family chose to keep the plaque at St. Francis Preparatory School, where Lombardi honed his craft as an offensive lineman en route to earning a scholarship to Fordham University.
It didn't take long for Lombardi to put the rest of the NFL in a stranglehold. Two years after the Packers finished 1-10-1 in 1958 and were within a whisper of losing the franchise, Lombardi churned out a playoff team for the first time since 1944. Lombardi didn't stop there as he racked up three NFL championships and two Super Bowls in seven years, numbers that would make any opponent cripple to its knees.
"The greatest achievement is winning three championships in a row which in the playoff era no team has done," said Lombardi who worked for 10 years in football with the World League, the Cleveland Browns, Vanderbilt University and Tennessee Oilers/Titans. "A lot have won two but no one has been able to win that third one. So it's that achievement level that I think they're all chasing. That accomplishment in and of itself is something that everyone can look to who's in professional sports.
The game itself has undergone a lot of change since Lombardi saved a franchise, charmed a town and electrified a fan base. In 16 seasons, Bart Starr averaged just 197 pass attempts. Conversely, in just five seasons of being a starting quarterback, Aaron Rodgers has averaged 521 pass attempts. There is a passing renaissance in football right now — through four NFL weeks, there has been 39 300-yard passing games and 10 400-yard passing games. Yet, despite all that, Vince wouldn't have enjoyed the aerial fireworks. And with the five-yard chuck rule and safeties being unable to hit receivers over the middle, those silly passing numbers aren't going anywhere.
"Again, this is paraphrasing, he said football was a perfect game with the exception of the quarterback, he had too much responsibility," Lombardi said. "He was too important in the grand scheme of things. If he had a bad game or you did not have a top-flight quarterback, you suffer I guess exponentially, over any other position. You look at any highlight, you look at any news report, the quarterback is usually the lead or the No. 1 impact on the game. Either way, he's right."
Another big change in the NFL is how the rules are limiting how defenders can hit, by forcing them to lower their target area from the helmet area or face stiff fines such as $21,000 for a first offense hit on a defenseless player or $42,000 for a second offense hit for spearing. While I agree with the NFL in trying to protect its players, I'm afraid that the tougher rules might be peeling away at the heart and soul of what the NFL was built on.
"You know, it's a question, are guys bigger, faster, stronger than they were eight and 10 years ago?" said Lombardi. Thirty years ago? Fifty years ago? Does something have to be done? I don't think they have any choice. The liability is just too great for them to ignore it."
And speaking of liability, on Aug. 29, the NFL cut a check for $765 million, which was brought about after more than 4,500 players filed lawsuits. The NFL knows it has a problem with head injuries. The league has tried to sweep them under the rug but now with scientific research proving its causes and effects, the head injury chatter will never go away.
"I see guys like Bill Simmons and some of these other people speculate that in 20 years football will either not be what we know to be or it will be gone to the injuries, liabilities and the concussions," Lombardi said. "I'm not that pessimistic, I think they will adjust. You know before they didn't have helmets, and then they went to leather helmets, then they went to facemasks, then they went to padded helmets. All of these changes they've made and coaches and players have adjusted and I'm sure they'll adjust to this."
To the dismay of many Packers fans, John, 46, was a big Vikings fan growing up in St. Paul, Minn. He grew up idolizing five-time Pro Bowl running back Chuck Foreman. After his father Vince Lombardi Junior took a job with the Seahawks, John was instantly a Seattle fan.
However, everything changed when his brother Joe became the quarterbacks coach of the Saints. The moment that happened, he became a member of the "Who dat?" nation and wore a Saints golf shirt to the Saints-Packers Kickoff Game at Lambeau Field in 2011.
"I'd like to be a true, die hard Packer fan, due to all the conflicting loyalties I have," John said. "I like to see them do well. I root for them to win. It's good for the town. It's good for football for the Packers to be a contender."
And just when the hot seat couldn't get any hotter for John, I asked him who was the best quarterback in Packers history: Starr, Brett Favre or Rodgers? This question gets debated endlessly at Lambeau in the shadow of Vince's statue, in sports bars and living rooms.
"To compare them is just kind of to do a disservice to the three of them," Lombardi said, who has been married 14 years, has four children and works for a general contractor in Nashville, Tenn. "I will say other than the four games that Peyton Manning has played this year, over the last three or four years, Aaron Rodgers has probably been the best quarterback of his era. His ability to put the ball where it needs to be, to escape the rush and make plays with his feet. And to avoid costly turnovers is amazing. I think the Packers have achieved a lot more than the overall team can ever achieve because Aaron Rodgers is just that good. When Tom Brady went down a couple years ago, Matt Cassel came in and they won 10 games. I don't think the Packers are that kind of team. I think if they had to go to their backup, if anyone thinks they would win 10 games, they're dreaming."
But he cannot discount Starr's 9-1 career playoff record complete with five championships, despite the amazing way that Rodgers has perfected the back shoulder throw.
"If you had to rank them, why do they play the game and that's to win the final game of the year, you'd have to put Bart Starr at the top," Lombardi said. "That's what he was tasked with doing. To watch Aaron Rodgers is amazing. It takes my breath away sometimes to see some of the plays he makes."
When Lombardi gets into a situation where he has to hand over his ID, there are times when people will ask if he's related to the football icon. And when he says yes, nearly half the time people don't believe him anyway.
"I'm obviously not going to go out of my way to convince them who I am," Lombardi said. "I've been asked, 'Let me see your driver's license.' That just gives you my name, it doesn't say: "Related To Vince" on my driver's license."
After all these years, Lombardi still gets asked once or twice a week about Green Bay's fiery coach that ignited a fan base with an 89-29-4 Packers record. Right now, the next generation of Packers fans is busy Googling who this Lombardi fellow was, how he was able to introduce rule blocking and the famous Power Sweep en route to finishing lower than second place in the regular season only once in his entire coaching career.
Consider Lombardi learning a prerequisite for Packers fans.
————————
Listen to the entire interview here:
——————
Cory Jennerjohn is from Wisconsin and has been in sports media for over 10 years. To contact Cory e-mail him at jeobs -at- yahoo.com or follow him on Twitter: Cory Jennerjohn
——————