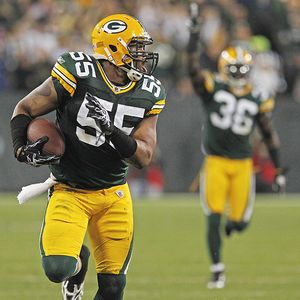 The first signs of trouble emerged last week and now the Green Bay Packers have made it official.
The Packers today announced that they have released LB Desmond Bishop roughly a week after speculation began about his future with the team.   Bishop missed all of the 2012 season with a torn hamstring and many have speculated that this is the reason behind his release.  Bishop for his part, however, has insisted that he was healthy.
With Bishop's departure, this leaves linebackers A.J. Hawk and Brad Jones as the likely starters at inside linebacker in Green Bay's base 3-4 defense.  A healthy Bishop was anticipated to help a Packers defense that struggled at times last year and was thought to be the best inside linebacker on the team.
Bishop was a sixth round draft pick of the Packers in the 2007 NFL Draft.  He enjoyed several successful preseason games before finally getting his chance as a full-time starter when Nick Barnett went down with injury during the 2010 season.  Bishop's play exceeded all expectations that year and became a fan favorite over the next several seasons.
He finishes his Packers career with 310 tackles  (224 solo), nine sacks, seven forced fumbles, an interception and 13 passes deflected.
Green Bay meanwhile frees up approximately $3.46 million in cap room as a result of releasing Bishop.  Bishop is not subject to waivers since he has been in the league for more than four years and immediately becomes an unrestricted free agent.
Will the Minnesota Vikings come calling? Don't be surprised if they do. Wes Hodkiewicz of the Green Bay Press-Gazette already tweeted that according to sources the Vikings very well could be Bishop's first visit as a free agent.
——————
Kris Burke is a sports writer covering the Green Bay Packers for AllGreenBayPackers.com and WTMJ in Milwaukee. He is a member of the Pro Football Writers of America (PFWA) and his work has been linked to by sites such as National Football Post and CBSSports.com. Follow @KrisLBurke
——————