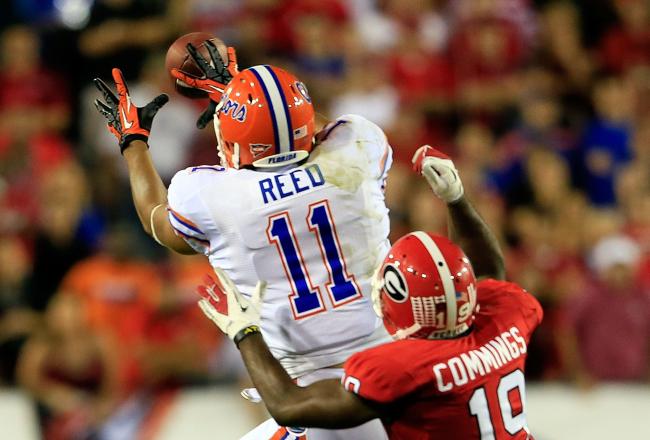 Green Bay Packers NFL Draft prospect profile: TE Jordan Reed
Player Information:
Jordan Reed, RB North Carolina
6-2, 236 pounds
Hometown: New London, CT
NFL Combine:
40 yard: 4.72
Bench: 16
News and Notes:
Jordan Reed is one of the more interesting prospects when he joined the Florida Gators as a man with no position.  A high school quarterback that lead his team to an undefeated season, the Gators first tried him out at running back where he gained 335 rushing yards on 44 carries (4.4 ypc) in his freshmen year.  He then made the transition to tight end where he lined up everywhere including inline, in the slot and bunch formations.  While Reed offers up an intriguing skill set he also carries much personal baggage that may ultimately cause his draft stock to fall.
 What they're saying about him: 
CBSSports.com: "Reed is a fluid and flexible athlete with smooth body control and controlled balance. He flashes WR moves after the catch with quick, elusive feet and deceiving speed to run away from defenders.  Reed shows smooth athleticism in his routes, creating separation with sharp footwork and quick body movements. He has reliable hands and does a nice job holding onto the ball after a big hit, proving his ability and toughness over the middle of the field."
NFL.com: "Used from a variety of spot along the formation: inline tight end, detached tight end, receiver, H-back, and even some running back. Adequate blocker when able to ride the shoulder and drive. Resets and gets after his assignment in the running game if missed the first time. Very smooth in breaks on outside breaking routes. Shines with the ball in hand, makes moves in space like a big running back with agility. Consistently makes oncoming defenders miss with hops, cuts, or speed. Flashes getting physical to earn the first down or extra yard at the end of runs. Good mix of hands catching and letting it into his body against tight coverage."
Video:
Video Analysis:
My first impression is that Reed was miscast in the Florida offense.  Why use Reed primarily as an inline blocker when he's a much better receiver than blocker? He doesn't he have the size/functional strength to really excel as a blocker.  Reed was reportedly benched for insubordination in a bowl game and supposedly had "character issues", which presumably did not land Reed in the good graces of the coaching staff so perhaps all the blocking assignments were something of a forced act of penitence (or maybe all the blocking assignments lead to the insubordination, who knows?)  Arguably, character issues alone would probably strike off Reed from the Packers' board, but circumstances are important; a couple years ago the Packers drafted Brad Jones who was also in the dog pound in Colorado but since then he's been nothing but a solid player and good teammate. Also keep in current tight ends Jermichael Finley and Andrew Quarless were also character concerns coming out of college as well.
Perhaps the most impressive trait that Reed possesses is his ability after the catch; he's quicker than fast but has great lateral agility that makes him look like a slot receiver like Welker or Cobb in some instances.
Very smooth athlete, uses his good body control to create separation from defenders.
Soft hands and a natural pass catcher.  Also has a pretty good catching radius.
Nascent route runner; isn't very sudden when changing directions and will need to expand on his route tree to be successful in the NFL.  I believe he has the physical ability to become one of the better route runners in the NFL, but will need a lot of coaching up.
An adequate blocker given his distinct lack of size; held his own in a couple of instances but was often caught lunging with his head down at defenders, often leading to whiffed blocks.
Lacks the size or speed to fit into the new mold of tight ends like Jimmy Graham or Jermichael Finley.  He fits more into the role of the H-back/joker role of DJ William or his Gator predecessor Aaron Hernandez.
If drafted by the Packers
In the base case scenario the Packers draft the next Greg Jennings, only bigger.  Jennings was neither the fastest nor the biggest wide receiver but was deceptively fast, ran exceptionally smooth and precise routes and caught the ball effortlessly.  Jordan Reed almost mirrors those sentiments, he is neither the biggest nor fastest tight end, but is deceptively fast, runs exceptionally smooth routes and can catch the ball effortlessly.  However, the worst case scenario is probably former Gator Percy Harvin, who while exceptionally talented also comes with a laundry list of character issues, which ultimately lead to the VIkings trading him away.  If drafted by the Packers, Reed probably starts on special teams but could develop in two different forms.  One form is as the H-back (what DJ Williams presumably was supposed to become) with his experience in both running the ball and blocking, Reed would be an optimal candidate to be the successor of do it all fullback John Kuhn.  The more attractive form would be Aaron Hernandez, who operates in essence as a big wide receiver capable of creating mismatches against both cornerback and linebackers in space.  In the end, it really comes down to the interview, if Reed is genuine and either indadvertedly rubbed some coaches the wrong way or was caught up in coaching politics (which does happen), then the Packers should have no issue picking Reed.  If on the other hand they find a player with a me-first mentality and questionable character, the Packers will most likely steer clear until the end of the draft.
——————
Thomas Hobbes is a staff writer for Jersey Al's AllGreenBayPackers.com.
——————