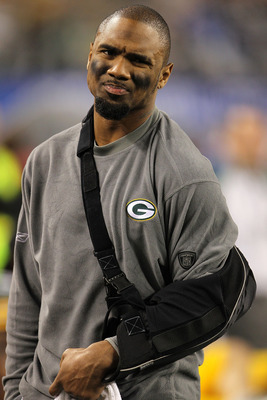 Well that was unexpected.
Charles Woodson has a broken collarbone and is expected to miss 6 weeks, as reported by Jay Glazer.  This is apparently the same part of the collarbone that Woodson broke during Super Bowl XLV, and since there is no treatment for breaking a collarbone (expect wearing a harness to properly align the bones and letting it heal naturally) it's likely that the break this time is due to the previous injury.
Also interesting is that Woodson wasn't listed on the team's injury report after the game against the St. Louis Rams and was available for interviews, so presumably he didn't know he had broken a bone (much like Packers OLB Frank Zombo playing with a broken scapula).  On the positive side this might mean its only a partial break instead of a complete break, which might lower the recovery time.
Luckily it looks like the Packers have enough depth to cover for the loss of Woodson; Sam Shields, Casey Hayward and Davon House all look like good up and coming cornerbacks and MD Jennings and Jerron McMillian both would likely play in place of Woodson at safety.  Hopefully the Packers have enough depth in their leadership to lose Woodson for 6 weeks.
——————
Thomas Hobbes is a staff writer for Jersey Al's AllGreenBayPackers.com.
——————