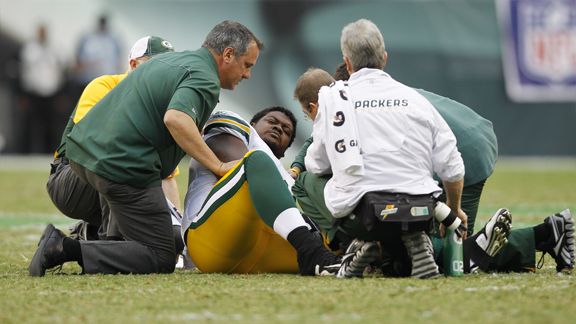 Let's play devil's advocate one more time and look at why the Packers should trade up in the NFL draft.  This time I will be looking purely at the economics of the draft.  The classic example that Packer fans love in the 2005 NFL draft where Alex Smith was given the biggest rookie contract of all time at that point with $45.9 million deal with $24 million guaranteed while Aaron Rodgers only commanded a $7.7 million deal (less than Smith's guaranteed contract) with $5.4 million guaranteed.  I'm not going to go in the relative value of Smith vs. Rodgers as players (as countless writers including myself have beaten the topic to death) but the take home message is that the Packers couldn't lose economically: if Rodgers is the next Bart Starr, then they've got him at a discount for the first 5 years, if he's decent the Packers paid a fair market value for him and if he's a bust they can cut Rodgers without much penalty.  Smith on the other hand had to succeed; it was the only way to justify his massive contract.
The other important point was that the most effective draft pick is in the middle of the second round, which is where the talent of a player cost the least amount of money compared to the talent available.  Simply in terms of the Packers, if you get a Greg Jennings, Nick Collins or Jordy Nelson, then great since you've got a star at a fraction of the cost of the 1st round pick.  On the other hand, if you draft a Brian Brohm or Pat Lee, no big deal, you didn't have all that much invested in them so they can be cut without ruining your salary cap.  A good comparison is between Mike Neal and Justin Harrell.  General manager Ted Thompson was essentially forced to find some value in Harrell due to his draft status as a 1st round pick and thus kept him on the roster even though he was always hurt.  Neal on the other hand as a 2nd round draft pick wasn't a very risky investment, and in light of his injury concerns and his drug suspension, news is already out that the Packers could cut Neal rather than hold him on the roster.  If anyone plays Texas hold'em, it's akin to staying in a game not based on the strength of your hand (which is what you want) but due to the amount of money you've already invested.
However, one thing has radically changed the landscape of the NFL from when I originally wrote the article in April, 2010.  That one thing is the new CBA deal and more specifically the rookie salary cap.  For instance, let's take a look at the 2012 salary of Sam Bradford, the very last 1st overall draft pick to benefit from the old CBA:
| | |
| --- | --- |
| Name | Contract |
| Drew Brees | $15,760,000 |
| Michael Vick | $12,500,000 |
| Sam Bradford | $12,000,000 |
| Matt Ryan | $11,500,000 |
| Matthew Stafford | $11,500,000 |
The list above shows the 2012 salary of Bradford and the two quarterbacks above and below him as a comparison.  You could make the argument that Bradford isn't as good as any of the listed quarterbacks and definitely isn't better than Aaron Rodgers, who isn't even on the list.  I would even argue that Bradford, Ryan and Stafford all shouldn't be in the same tier of quarterbacks as Vick and Brees and their contracts are only so ridiculously high due to the being very high draft picks during the old CBA.
Now let's take a look at the 2012 contract of Cam Newton, the very first player of the new CBA
| | |
| --- | --- |
| Name | Contract |
| Jason Campbell | $1,500,000 |
| Sage Rosenfels | $1,450,000 |
| Cam Newton | $1,376,159 |
| John Beck | $1,300,000 |
| Drew Stanton | $1,250,000 |
I could make the argument that Netwon is probably worth more as a player than the other 4 quarterbacks combined and its also interesting to note is that Newton is the only starter and the other 4 quarterbacks are making back-up money.  Simply put the new CBA made 1st round picks cheap.
To put it another way, in 2010 the 28th overall pick was defensive end Jared Odrick, who signed a $13 million, $7 million guaranteed contract.  Last year, Jake Locker (a quarterback no less), was drafted with the 8th overall pick,only signed a $12 million dollar contract.  Essentially it's the same money overall (aside from Locker's contract being fully guaranteed, though that's nothing in comparison with Bradford's $50 million guaranteed) but a full 20 picks (and presumably 20 players) better.
So what does this all mean for Ted Thompson?  It means that Thompson could trade up and draft 8th overall and only have to offer a contract worth the 28th selection in previous years.  This means that the balance between the risks of signing a bust versus the reward of drafting a star player has now shifted back into the 1st round, where it should be.  Does this mean Thompson will be trading up?  I can't imagine having all 12 draft picks make the roster so using some of those picks to move up makes a lot of sense to me.  I frankly have no idea what goes on in Thompsons mind (if I did, I'd be a pretty good GM), I'm sure Thompson is aware that trading back might not be the most efficient method in the draft anymore but it remains to be seen whether or not Thompson has it in him to so drastically change what has worked for him for so many years.  Some old habits die hard, but hopefully Thompson realizes that the new CBA means a brand new environment for front offices and evolves with the game.
——————
Thomas Hobbes is a staff writer for Jersey Al's AllGreenBayPackers.com.
——————