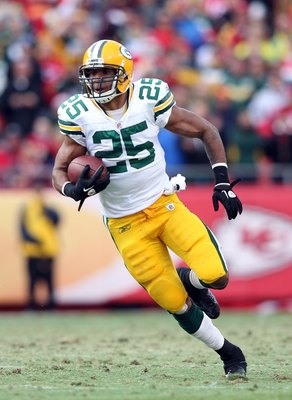 The hot topic around the water cooler all around Wisconsin (and other businesses that are home to hard working Cheeseheads) has been the fate of Donald Driver.  As the most veteran member of the Green Bay Packers as well as one of the most beloved professional athletes in Wisconsin, whether Driver will be back on the team has been "the" discussion so far of the Packers offseason.
There is another decision looming however that arguably would have an even greater effect on the Packers roster: whether or not to bring back RB Ryan Grant who is now an unrestricted free agent.
This isn't meant to diminish what Driver has meant to the Packers.  He's been a locker room leader for practically forever and his off the field efforts have made Driver a legend in the mind of Packer fans.  He deserves every ounce of praise he's getting.
With the Packers' roster loaded with talent at the wide receiver position, Driver's potential departure would not have as much an impact on the field as the loss of someone like Grant would potentially have.
Why would the loss of Grant, who entered the season as practically a backup to James Starks, have such a wide reaching effect on the offense despite its heavy reliability on the pass?
Well, let's take stock of the other halfbacks on the roster:
First is Starks.  The second year running back spent much of 2011 nursing one form of injury or another.  Factor in his rookie season in which he spent a significant amount of time on the physically unable to perform (PUP) list and his durability must be called into question.
Starks is still likely the future at the running back position with Grant approaching his 30th birthday this December.    However, Grant showed he still had some burst late in the season. Starks missed three of the final four games of the season (one being a meaningless game against the Lions) and Grant averaged 8.5, 5.5, 5.5 ad 4.0 yards per carry in those games, respectively. Starks in his final four games averaged 3.5, 4.8, 1.7 and 2.2 yards per carry.
Both backs nearly mirrored each other statistically. Keep in mind that Starks played in 13 games and Grant played in 15.  Starks finished with 578 yards on 133 carries (5.8 yards per carry average) and one touchdown while Grant had 559 yards on 134 carries (4.2 yards per carry average) and two touchdowns.
It's unreasonable to think the Packers can get any more than one or two more years out of Grant.  Running backs typically see a decline in performance after they turn 30 and Grant, one season removed from a major ankle injury, could be a prime candidate for such a decline.
Should Grant depart Titletown, Packer fans will perhaps see more of Brandon Saine. The rookie caught the eyes of Packer fans late in the season with his powerful running style as well as being a decent option in the screen passing game.  He's fast and can block too.  Seems like the all-purpose halfback that would fit perfectly into the Packers' offense, right?
Since he was acquired so late in the season, this upcoming offseason will be crucial to see what Saine can do.  Should Grant leave, he likely would be the number two running back behind Starks unless Thompson brings someone in via free agency or more likely drafts a back in the early rounds.
Then there is 2011 third round draft pick Alex Green.  The Packers seemed high on Green until he went down with a knee injury, but he just saw special team works and given the difficulty some running backs have in coming back from knee injury, it's tough to gauge how much Green will be able to contribute.
What must also be considered is how much importance the running game plays in Mike McCarthy's offense.  It can be reasoned that a stronger running game would take some pressure off Aaron Rodgers and the passing attack and would help when the passing offense does struggle.  Think a strong rushing attack wouldn't have helped a little in the game against the Kansas City Chiefs?
If McCarthy wants to make a concerted effort to bring some semblance of balance to his offense, then I think Grant needs to be brought back for another year as Saine or Green or another back develops behind Starks.  The ball definitely should not be taken out of Rodgers' hands, but the lack of a running game may have caught up with the Packers late in the season. With Andrew Quarless returning from injury, the Packers may have to make a decision on keeping the same number of tight ends to accommodate Grant on the roster but that question will be worked out in time.
It's not even a given Starks will be successful in the league, either.  His happy feet in the backfield hurt him a lot this year and until he learns to cut and go, there will be questions about the running back position on the Packers.
It's a tremendous help that you have the NFL Most Valuable Player as your quarterback, but having a good running game to complement a lethal passing attack could make the Packers' offense jump from one of the best in the league right now to one of the best all time.
——————
Kris Burke is a sports writer covering the Green Bay Packers for AllGreenBayPackers.com and WTMJ in Milwaukee. He is a member of the Pro Football Writers of America (PFWA) and his work has been linked to by sites such as National Football Post and CBSSports.com. Follow @KrisLBurke
——————