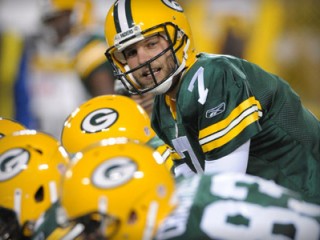 As a staff writer at AllGreenBayPackers.com, I did my own 53 man roster prediction and as I said at the beginning of that article, I am wondering what the hell I was thinking now.
I thought Chastin West and Tori Gurley had too good of a preseason and one of them would make it onto the team as the 6th wide receiver; neither made the team (but both were signed to the practice squad).  I thought Caleb Schlauderaff would make the team based on his draft status and the lack of depth of the interior offensive line; he was traded to the Jets, but not before being informed that he was going to get cut anyways. Finally I thought Graham Harrell would definitely make the team.
With West, Gurley, Schlauderaff, I wasn't all that surprised that thing hadn't turned out the way I predicted; but with Harrell it just didn't make any sense.  Harrell was supposed to be the insurance policy for an Aaron Rodgers concussion and a Matt Flynn trade.  He had a memorable win against the Colts in week 3 of the preseason and had a good enough training camp that many (including myself) assumed he was good enough to be a backup with the majority of teams.
So when Graham Harrell was first cut by the Packers, then cleared waivers and then re-signed to their practice squad, I met each event with a little disbelief.  How could someone who looked so good at football's toughest position in the preseason not only get cut, but also not even get claimed?  I would look at the San Francisco 49ers depth chart and wonder, how could Alex Smith and Colin Kaepernick be so bad during the preseason and still be on the team, but why no love for Graham Harrell?  What had happened?
My only conclusion was that every other fan, the media and myself had got overzealous.  During the Ted Thompson era, we've come to expect a ridiculous amount of depth at all positions.  One prime example was that last year 5 players, an inordinate amount, were signed to 53 man rosters after getting cut by the Packers. (ironically this year no players were claimed by other teams after being cut by the Packers)  Fans and the media a like love to tell stories of how unheralded backups up stepped up and helped win Super Bowl XLV.  But really, in the free agency era, it simply isn't possible to stockpile good players; there simply isn't enough money.
We wanted Graham Harrell to make it on the team because we would all feel better if he did, we saw his successes during the preseason and immediately saw them translate to the regular season.  But if it wasn't blatantly apparent already, fans and the media think quite differently from front offices and coaching staffs.
We overrated Graham Harrell: As fans we wanted to know that there was an insurance policy should Rodgers get hurt in 2013 and with only one other quarterback at training camp, all eyes turned to Harrell.  We wanted Harrell to be good because if he wasn't what would happen next year? Good quarterbacks take a lot of time to develop (see Aaron Rodgers) and if Harrell was no good, what would the team do next year with Flynn presumably leaving?  Teams on the other hand apparently did not feel the same way; whether because of his limited arm strength, the history of Mike Leech quarterbacks or simply because he isn't that good (yet), no team put a waiver claim on him which is interesting since in essence it means all 32 teams were in agreement that Graham Harrell wasn't roster worthy.
We overrated Matt Flynn: Flynn was considered hot trade bait for many Packers fans during the offseason, with many hoping as high as a first round pick in exchange for Flynn's services.  The same fans thought that he had played well enough against the Patriots to warrant such a trade and were hopeful that when that happened Graham Harrell would be ready to step in as the backup quarterback (which of course snowballs into all the hype that Harrell received).  Obviously this didn't go down and now I have my doubts if any team even put in a realistic offer for Flynn, if at all.  The Packers willingness to bet on Harrell has implications for Flynn's talent as well, maybe he isn't as good as we all had thought (certainly not high draft pick sort of good).  My reasoning is that if the Packers had thought that Flynn was 100% gone next year I think they would have had to handle Harrell the way that fans imagined.  My impression now is that the Packers aren't as high on Flynn as the fans were and don't see a huge rush for Flynn's services next offseason.  Obviously if Rodgers goes down and Flynn lights it up in his stead things will change, but the Packers are probably hoping that Flynn doesn't see the field other than on mop-up duty and then re-signs with the Packers to a team-friendly contract.  Just like what happened to James Jones this year: I thought that Jones was as good as gone as well but when the market turned a cold shoulder, he ended up back with the Packers.  If the market ends up turning a cold shoulder to Flynn as well it makes a lot of sense for him to re-sign with the Packers; for one Rodgers has an injury history and having 4 years of experience in the system is bound to make you a better player (and hopefully more money in the future). 
The new rule change made 3rd string quarterbacks obsolete: The quarterback position is a highly protected position and it's not unusual to see quarterbacks play ever snap of a season (or at least the vast majority).  Compared to everyone other position save maybe kickers, the quarterback position simply doesn't need many backups.  Also, the NFL changed the rules slightly this year abolishing the "emergency" 3rd string quarterback rule (i.e. the Caleb Hanie rule) in favor of a 46 man active game day roster.  Teams are given the freedom to use the extra spot however they see fit and as Tyler Dunn mentioned, head coach Mike McCarthy has stated that its unlikely that Harrell would have ever been active, which defeats the purpose of having an extra backup quarterback.  Was the risk of losing Harrell bigger than having to carry him inactive over every game?  Apparently the Packers didn't think so and other teams seem to be following suit with only two quarterbacks on the roster.  Ironically, this might have been part of the reason why the Packers were willing to bet that no one would claim Harrell since it would force them to keep one inactive player on the roster for the entire season. 
Harrell was not one of the best 53 players: As a west coast quarterback, Harrell is rather limited in his role (paradoxically).  Harrell won't be covering kickoffs, blocking extra points or blocking for punters.  And when it gets down to 2nd and 3rd string players, the ability to play on special teams is a huge factor and Harrell simply is a non-factor in that regard.  That's not a knock on him, but the quarterback position as a whole.  Just like a kicker is essentially useless on offense, so is a quarterback on special teams.  The Packers historically have had enough trouble on special teams under Ted Thompson and Mike McCarthy and the more players that they can have on the roster who can play on special teams, the better the chances for the special teams unit.
So really, fans were already hyping for Graham Harrell before he even threw a pass this preseason.  The chain of events unfolded basically like this: fans were surprised to see Matt Flynn play as well as he did against the Patriots and the media was quick to echo that sentiment.  From that one game, many people thought that Flynn was the next Matt Cassel and would become a very good starting quarterback.  Obviously Aaron Rodgers isn't a very good starting quarterback, he might be the best quarterback and it was then logically assumed that Flynn would leave for greener pastures next year.  Because of that everyone put high hopes on Graham Harrell since there was no one else competing for Flynn's job and when he won the game against the Colts at the last minute that solidified his spot in the minds of many.  That all leads to me (like many) being utterly confused about why Harrell was not only cut by the Packers but somehow managed to land back on the practice squad.
Again more reason why we're fans and not running the team.
——————
Thomas Hobbes is a staff writer for Jersey Al's AllGreenBayPackers.com.
——————