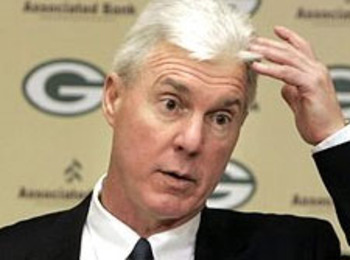 Let's change the pace a little bit, let's talk about you.
Let's talk about you the fan.
Now that General Manager Ted Thompson has won a Super Bowl using the "Thompson Method ™", he can apparently do no wrong in the eyes of the fans.  People who had been clamoring for years to get more veteran free agents and big name signings have quieted down, ready to admit the error in their ways and venerate the white-haired one.  Even the most staunch Thompson hater is now ready to board the "draft and develop" bandwagon that Thompson preaches.
One interesting fact that I've noticed is that almost as adamantly as fans were criticizing him before he won a Super Bowl, fans are now just as adamantly supportive of him now that he has won one.  Fans now seem to think the same way as Thompson now, which brings up a interesting question: are Packers fans now psychologically predisposed to think like Ted Thompson?
It's an interesting thought.  If you are a Packers fan right now, you couldn't be happier and you'd like status quo to continue (repeat anyone?).  Obviously Ted Thompson did something right to win a Super Bowl (right?), so it makes sense that people are following in Thompson's rationale now.
For example, currently one of the big stories in the news is how long veteran wide receiver Donald Driver is going to remain a Packer.   Jason Wilde and Bill Johnson at Green and Gold Today have argued that if you took Driver's name out of it, he's one of those players that Thompson typically likes to cut and fans seem to echo that sentiment.  What I think people have forgotten is that Driver beat out Jordy Nelson and James Jones for the #2 wide receiver spot behind Greg Jennings last year and appears to still be the #2 wide receiver in training camp this year.
It's not like the Packers gave him the spot because of his name either, he's had to hold off every other wide receiver for that spot just like everyone else.   One other thing to consider is that the only way they will cut Driver (or any player for that matter) is if they get a player with more upside.  Do players like Brett Swain, Shaky Smithson, Tori Gurley etc. have more upside than Driver?
The same sentiment goes for Ryan Grant.  Many are starting to see Grant as slightly expendable or tradable since many are predicting a dominant James Starks.  Fans will point that Starks looked better in the preseason than Grant.  Lest we forget, Starks had a total of 2 attempts for 14 yards before being sidelined by an ankle injury.  While I would say its an unknown how Grant will fare after being sidelined for an entire season, I would say it's just as unknown how Starks will fare when he's asked to tote the rock for an entire season.
Either way, just because Grant is "old" by Packers standards doesn't mean that he's going to get kicked off the team.  Again, keep in mind that if Grant gets replaced, his replacement needs to have significant upside to warrant it.  Does Dmitri Nance or Brandon Saine have better upside than Grant?
Finally, there is the case with tight end Andrew Quarless; he was only drafted a year ago and fans seem ready to give up on him already.  They look at his mediocre rookie season and see two potential stars in D.J. Williams and Ryan Taylor (they also see a Mackey Award winner versus GOD'S GIFT) At this point fans would rather dump Quarless than risk losing Williams or Taylor or fan favorite Tom Crabtree.
However, rookies typically have mediocre season and as a rookie Quarless did.  Jermichael Finley also did. B.J Raji also did.  I'm willing to bet D.J. Williams and Ryan Taylor will have mediocre seasons as well.  In fact I would wager that no one knows what kind of player Quarless is after only one year, but he does have the body type that the Packers like in their tight ends which gives him an advantage over Williams and Taylor.
So why is this?  Why are fans so dismissive of veterans and so ready to see younger players succeed?
Ted Thompson preaches youth and fans believe it:

  People always want to emulate winners and Ted Thompson is now a winner.  The classic argument now with signing veteran free agents is that Ted Thompson didn't have to sign veteran free agents to win a Super Bowl so obviously veteran free agents are useless (while conveniently forgetting about Charles Woodson and Ryan Pickett)

Young players offer an optimistically unknown commodity:

  For better or for worse, a player is often defined by big plays (perhaps why AJ Hawk, a very good player who never seems to make the big play gets so much flack from the fans; fans are quick to show Pat Lee the door after failing to get his head around on Joshua Cribb's touchdown play and just as quick to give his spot to Josh Gordy, who had a sack and a interception in the same game.  But that was one preseason game and Lee was with the starters while Gordy was with the 3rd team.  Simply put as a player, unless you've already proven yourself to be a star, fans will quickly turn on you for a more unknown player who at least has the potential of being the next star.

Fans see finding successful young unknown players as the norm in Green Bay:

 While many have alluded that the science of drafting is really not that great, overall the vast majority of good players are indeed drafted.  The Packers, who might be the post child for undrafted free agents really only have a handful.  Keep in mind that with every undrafted free agent success, 32 teams had to collectively whiff around 250 times.  Ted Thompson has even admitted that signing Sam Shields was mostly a matter of luck, as even he passed on Shields 7 times in the 2010 NFL draft.

Fans tend to quickly forget about the young players that don't make it

: Everyone likes to tell stories about Tramon Williams and Sam Shields but Williams and Shields are the vast minority of all the cases.  Ted Thompson actually brings in a ton of undrafted rookie free agents every year and most never pan out.  Can you name an undrafted rookie free agent cornerback who tried out for the team last year and didn't make the cut?  I sure can't.

Fans love the underdog story:

 American's love the idea of a guy coming from nowhere to fulfill his dreams as an NFL player.  The media only exaggerates this by putting every rookie as an underdog; check out every bio piece on this year's rookies or undrafted rookie free agents.  Unfortunately the underdog story only lasts so long; as some might recall Ryan Grant was an undrafted rookie languishing on the New York Giants practice squad and almost never got a shot to play football.  But now that he is a successful, multiple 1,000 yard running back, he's seen as Goliath to Starks' David
I would argue that yes, fans now do seem to be predisposed into thinking like Ted Thompson.  I think that the most fitting example is Packer's fans reaction at the Philadelphia Eagles, who by all account had the most exciting pre-season of any team ever by signing basically ever free agent available on the market.  While other fans were sure to be at least partially jealous (or really jealous if you are a Redskins, Cowboys or Jets fan) Packers fans for the most part scoffed at the idea of signing so many free agents.  Would this have been true a couple of years ago before Thompson had proven that his method was successful?
I think it's important as fans not to just blinding follow Thompson's thinking.  When the Colts won the Super Bowl in 2008, many people were quick to venerate General Manager Bill Polian.  Colts fans were dismissive of linebackers (since Polian always seemed to manage to find good ones in the scrap heap of free agency) and overall people thought Polian was a genius.
Fast-forward to today and I think it has become apparent that the majority of the Colts dominance can be attributed more to quarterback Peyton Manning than Bill Polian.  Polian is a great General Manager but hasn't managed to find a bona fide star in the first round since drafting Dallas Clark in 2003 (while other teams have managed to find stars in the bottom of the 1st round, like Aaron Rodgers 24th in 2005)
In the end, as a Packers fan, keep in mind that Ted Thompson is not a god and you shouldn't blindly follow him; he's a really good General Manager but he does not always know what he's doing. Just look at Justin Harrell.
——————
Thomas Hobbes is a staff writer for Jersey Al's AllGreenBayPackers.com.
——————