Posted in
2010 Postseason
,
2013 - 2014 Season
,
2013 Regular Season
,
Clay Matthews
,
Eddie Lacy
,
James Starks
,
Matt Flynn
,
Packers Periscope
,
Quarterbacks
,
Thomas Hobbes
,
Tom Crabtree
by
Thomas Hobbes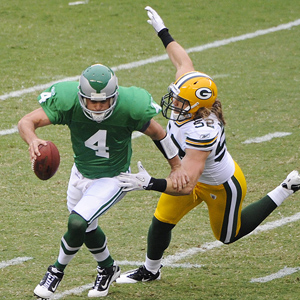 The Past
Last time these two teams met was in the NFC wildcard game in 2010. Â However, the Packers got to experience the beast that they themselves had created; during the season opener Clay Matthews III knocked out starting quarterback Kevin Kolb with a concussion, which paved the way for the resurgence of Michael Vick, who had been just released from jail after pleading guilty to operating a dog fighting ring. Â With the more dynamic Vick leading the way with vertical receivers DeSean Jackson and Jeremy Maclin, the Eagles boasted one of the most dangerous offenses that head coach Andy Reid had ever fielded.
However, during the playoffs the Eagles failed to get much going on offense while the Packers watched as rookie James Starks, who had been hobbled by injuries all season, burst onto the scene with 123 yards rushing, a Packers record for a rookie running back in the playoffs and saw a little glimpse of what was to come in their stunning 2011 season when an unknown undrafted rookie blocking tight end named Tom Crabtree made his first touchdown reception by sneaking past a linebacker.
On special teams, the Packers didn't make many mistakes, which couldn't be said for the Eagles as kicker David Akers left 6 points off the board with two missed field goals. Â The Packers also enjoyed several big plays on defense, notably Clay Matthews completely destroying tackle Winston Justice and a last minute end zone interception by Tramon Williams that pushed the Packers into the divisional round against the Atlanta Falcons.
The Present
A lot has changed for the Eagles since the 2010 playoff game. Â 13 year incumbent Andy Reid was replaced by college football phenomenon Chip Kelly, who had lead the Oregon Ducks to a 46-7 record with 4 bowl appearances with his fast-paced, spread offense. Â While Kelly and his super speed offense sent shockwaves throughout the NFL after their opening game against the Redskins after calling 53 plays in the first half, the rest of the NFL adjusted and the Eagles have been the epitome of "up and down" with some thrilling victories and some crushing defeats which explains the 5-3 record.
While Michael Vick still holds the starting quarterback position in name, Nick Foles has made a case to remain under center after a record breaking 7 touchdown, 158.3 QB rating touchdown performance last week against the Oakland Raiders. Â On the other side of the ball, the Eagles defense has been largely ineffective, sorting out much like the Green Bay Packers in terms of defensive efficiency. Read more... (725 words + 1 image, estimated 2:54 mins reading time)