Packers 2014 NFL Draft – Fifth Round Pick: Jared Abbrederis, WR, Wisconsin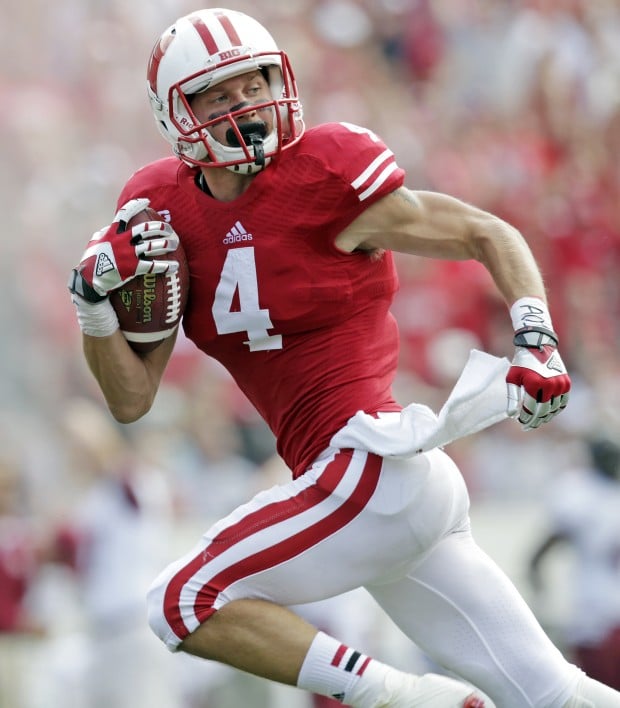 With their 5th round pick (176th overall) in the 2014 NFLÂ draft, the Green Bay Packers select Jared Abbrederis, WR, Wisconsin
PLAYER DETAILS:Â 
Jared Abbrederis
WR
Wisconsin
6'1″/195 lbs
Won 2013 Burlsworth Trophy as nation's top player who began his career as a walk-on … finished career tied for school record for receptions (202) and ranked No. 2 all-time at Wisconsin in receiving yards (3,140) and touchdown receptions (23) … ranks eighth all-time among Big Ten players with 3,140 career receiving yards … registered fourth 1,000-yard season in UW history in 2013 with 1,081 receiving yards … also set school record for kickoff return average (25.8) and ranks No. 5 all-time in punt return average (10.7) … finished career ranked No. 7 all-time at UW with 4,818 all-purpose yards (291 rushing, 3,140 receiving, 587 punt return, 800 kickoff return)
COMBINE:Â 4.5 40-yard, 4 bench, 30.5″ vertical, 117.0″ broad, 6.80 3-cone, 4.08 shuttle,
 Uses his hands well to swat away press. Stems his routes. Sells his patterns. Nice hands. Good field and boundary awareness. Gives effort to engage and shield cornerbacks as a blocker. Outstanding football intelligence — like a quarterback on the outside. Productive three-year starter. Mature and humble. Hardworking and coachable.
 Has a slender build and needs to bulk up and get stronger. Ordinary pop off the line. Builds to average speed. Could struggle to separate vs. quick-twitch covermen. Lets throws into his body and breaks stride to catch. Not an above-the-rim player. Straightlinish after the catch — pedestrian agility and elusiveness. Has a history of concussions.
 A former walk-on, Abbrederis went from afterthought to scholarship player to No. 1 receiver. While the blue-collar overachiever lacks exceptional athletic traits for the NFL, he's a steady "X" receiver whose hands and smarts could enable him to work his way into a No. 3 or No. 4 receiver role.
COMMENTARY:
Hometown hero Jared Abbrederis doesn't have to go very far to start his professional career, and while it might be too early to make comparisons but Abbrederis fits the mold of another try hard wide receiver that makes up for his lack of physical tools with hard work and good coaching that the Packers had a lot of success with, namely Donald Driver. Â Abbrederis also provides another option at returner, which is always a good thing for the Packers squad that always seems to be in flux. Â The wide receiver core looks a lot more stocked now with Jordy Nelson, Randall Cobb, Jarrett Boykin, Davante Adams and now Jared Abbrederis.
VIDEO:
~~~~~~~~
Thomas Hobbes is a staff writer for Jersey Al\'s AllGreenBayPackers.com.
~~~~~~~~