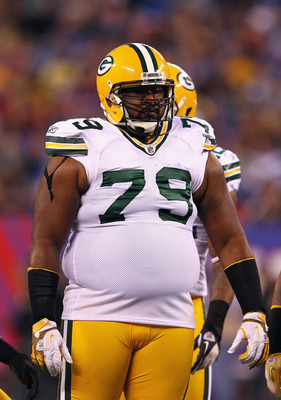 The big three — and I literally mean the B-I-G three — on the Packers defensive line have come to play through the season's first two games.
Packers = soft? It looks like B.J. Raji, Ryan Pickett and Johnny Jolly have taken it upon themselves to change that equation.
The trio, which weighs a combined 1,000 pounds, played a key role in containing Colin Kaepernick's running and shutting down Frank Gore in week one. On Sunday against the Redskins, they collapsed the pocket in the first half, allowing blitzers to get in Robert Griffin III's face.
Pickett even swatted a pass and Raji was wagging his finger after a couple stuffs at the line.
All three players are free agents after this season. It's an easy talking point to say that players are better in their contract years, but I don't necessarily buy that theory (that talking point has been proven false, for fantasy football purposes, anyway).
Pickett is a prideful leader who wants to prove he still belongs. Jolly knows he's beyond lucky to have another shot at both life and the NFL. Raji is an uber-talented player who can be unblockable in stretches.
Whatever the reason, all three are playing great and it seems like they're energy is giving the entire defense a boost. I'm really looking forward to what this defense can do when Morgan Burnett and Casey Hayward return and take advantage of what the Big Three are doing up front.
Sure, it'd be nice to get more of a pass rush out of the Packers' defensive line, but if the Big Three can keep can keep winning their one-on-one matchups, it should free up others to get after the QB while keeping the run defense strong.
Another player to watch: Datone Jones.
The rookie has been invisible the first two weeks. Not sure if his ankle is still bothering him or if he's just going through the typical struggles of a rookie defensive lineman. Either way, if he manages to come around and provide a little pass rush, this d-line could go from solid to downright dangerous in a hurry.
I know it's early. But through two games, we can't call this Packers defense soft (a little lost in the secondary at times, maybe, but not soft). A big reason for that is the play of Pickett, Raji and Jolly.
If Jones can get up to speed and maybe make the Big Three into the Big Four, watch out.
——————
Adam Czech is a a freelance sports reporter living in the Twin Cities and a proud supporter of American corn farmers. When not working, Adam is usually writing about, thinking about or worrying about the Packers. Follow Adam on Twitter. Twitter .

——————