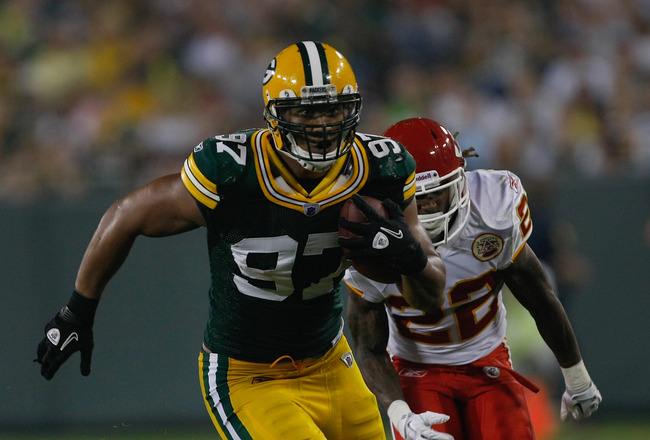 Every preseason, it seems like there is one previously unknown player on the Packers roster that stands out.   There is that one player whom fans love to watch and beg the coaches to play during the regular season.
In 2011, that player was linebacker Vic So'oto a rookie from BYU that went undrafted.   At BYU, So'oto was the true definition of a 'football player' by playing tight end and defensive end.  It's not hard to see why So'oto would be so warmly embraced by Packer fans.
He did miss the majority of the 2006 and 2008 seasons due to injury, however, and given the Packers' infamous luck with injury prone draft picks it is no surprise that So'oto went unselected on draft day last year.
As the saying goes, one man's trash is another's treasure.  In July, the Packers signed So'oto as an undrafted free agent.  Hoping to land a roster spot, he put on a show in the preseason against the Chiefs starters with 1.5 sacks and an interception before a nagging back injury that hampered him for most of the 2011 regular season.
You know what they say with the NFL fans when it comes to rookie players.  The first impression is always the strongest.
As the Packers pass rush continued to be non-existent, fans began to clamor for So'oto.  The lofty expectations placed on him by fans made you think he was another Clay Matthews.
The chance never came.  However, entering the 2012 offseason healthy and with the Packers desperately seeking a pass rush it seemed that So'oto would finally get his chance to shine in OTAs and mini-camp.
Then Ted Thompson went and drafted USC linebacker/defensive end Nick Perry in the first round and proceeded to load up on defenders in the 2012 NFL Draft.
This clouds the picture for So'oto going into training camp and arguably could doom his career prospects in Green Bay.  It's a near certainty Perry will line up opposite of Matthews in a decent chunk of defensive formations, so where does that leave So'oto.
The guess here is he will not make the team.  Having been snakebit by Justin Harrell and perhaps still sensing the ghost of Jamal Reynolds, Thompson may have too many concerns about the health of So'oto's back.   He will in fairness give So'oto a chance to strut his stuff during camp, but judging how heavy the draft class is on defense it seems the Packers have put the entire defense on notice. So'oto was on the bubble last year and it seems it could very well pop this summer.
So in what situations could So'oto make the 2012 Packers? Well, injuries for one.  The new rules governing training camp practices  try to minimize the amount damage players can do to their bodies in camp, but that doesn't mean injuries won't occur. They can happen in the weight room, or they could occur playing basketball with friends.  Freak accidents happen in the NFL and the Packers are all too familiar with fighting the injury bug.
There is also the possibility that a good number of draft "experts" are proven correct and Perry has issues playing standing up versus having his hands to the ground.  Every single NFL draft pick is a crapshoot no matter how often scouts and draftniks fawn and drool over a player's upside.
AJ Hawk was called the most "sure thing" in the 2006 NFL Draft. Greg Jennings was selected a round later. Need I say more?
Bottom line is we won't know where So'oto stands until training camp and the preseason game starts.  He is going to be only one of many defenders hoping to make the Packers roster and hopefully help dig the defensive out of the basement of the NFL.
One thing is for sure, the fans are rooting for him after he won them over last preseason.  Can he win over Thompson?
Stay tuned.
——————
Kris Burke is a sports writer covering the Green Bay Packers for AllGreenBayPackers.com and WTMJ in Milwaukee. He is a member of the Pro Football Writers of America (PFWA) and his work has been linked to by sites such as National Football Post and CBSSports.com. Follow @KrisLBurke
——————